92 leading officials swear oaths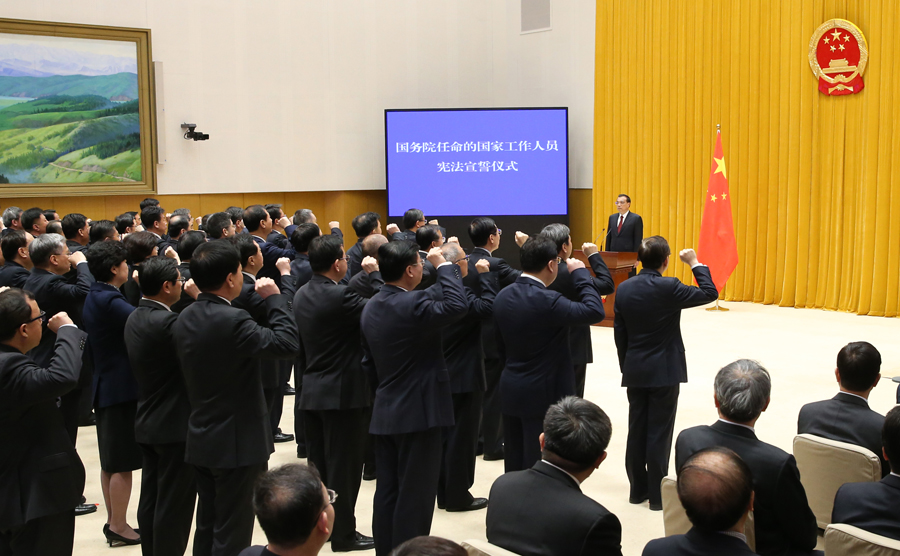 Li oversees ceremony, urges them to follow Constitution
Central government officials should exercise governance in accordance with the Constitution and the law to realize development and bring more benefit to the people, Premier Li Keqiang said.
Li made the remark at a State Council ceremony to swear in central government employees on Monday morning, with 92 leading officials of the new Cabinet from 42 departments pledging to uphold the Constitution. Li oversaw the ceremony.
The 92 officials, appointed from June to March, took an oath in front of a red-bound copy of the Constitution in a State Council assembly hall in the Zhongnanhai leadership compound. All participants stood to sing the national anthem before taking the oath.
"Efforts made by the people's government boil down to the purpose of serving our people's well-being and improving people's lives," Li told the group of officials after they took the oath. "Under the guidance of Xi Jinping Thought on Socialism with Chinese Characteristics for a New Era, we should firmly hold development as our top priority and implement the new development concept to realize comprehensive development of society."
An executive meeting of the State Council on July 20, 2016, passed a regulation that set out procedures for central government officials' oath ceremony, which aims to build a government based on the rule of law and to educate government officials to carry forward the spirit of the Constitution. It came after the Standing Committee of the National People's Congress put forward a legal document in July 2015 requiring all public servants swear an oath to the Constitution.