Experts say tariff clash betrays US anxiety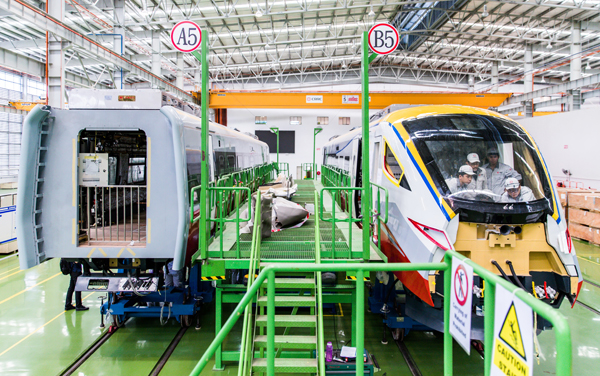 BEIJING-Anxiety over China's rising economic and technological power is the ultimate reason behind recent US moves on trade disputes with China, analysts said.
Deterring Chinese exports is not the real goal of the aggressive trade moves by the United States, according to Ye Fujing, head of the Institute of International Economic Research, which is part of the Chinese Academy of Macroeconomic Research.
"The hidden agenda behind the US trade deficit and forced technology transfer claims is to check China's high-end industrial development and its ongoing economic transformation," Ye said.
Less than two days after China matched the earlier $50 billion tariff wager on the US side with a similar one of its own, the Trump administration threatened extra duties on Chinese goods worth $100 billion.
In its national security strategy last year, the US administration painted China as a rival power eroding US security and prosperity, a country whose share of the world's economy was only 1.8 percent 40 years ago but is now the world's second-largest economy with leading technologies in many sectors.
China's rapid advancement in key technologies has made it a target in the US 301 Section investigation, accusing China of forced technology transfer from US companies via requirements for joint ventures and shareholding.
"The aim of the Made in China 2025 plan is certainly to strengthen China's manufacturing industries via technological innovation, but the plan itself has not violated any principles," said Huang Qunhui of the Chinese Academy of Social Sciences.
Meanwhile, by putting US products such as soybeans, automobiles and aircraft on the list of China's retaliatory tariff plan, China's resolute response has already hit the US where it hurts.
"Imposing tariffs on soybeans and other farm produce would make a massive impact, although their per unit prices are relatively low," said Bai Ming, a researcher with the Chinese Academy of International Trade and Economic Cooperation.
Aiming at items such as automobiles and aircraft also "threw a punch" at US manufacturing industries, Bai said.
"China is in the process of further opening up its services sector. The US risks losing the whole Chinese market if it pushes too hard," said Yu Miaojie, deputy director of the National School of Development at Peking University.
The US tariff list is harming its own enterprises. It will affect many high-tech and advanced manufacturing products made by US firms operating in China, according to Professor Wang Xiaosong of the Renmin University of China.
If the trade friction escalates, US firms are expected to see losses in their share in the Chinese market, he said.