Strong navy to better defend country's interests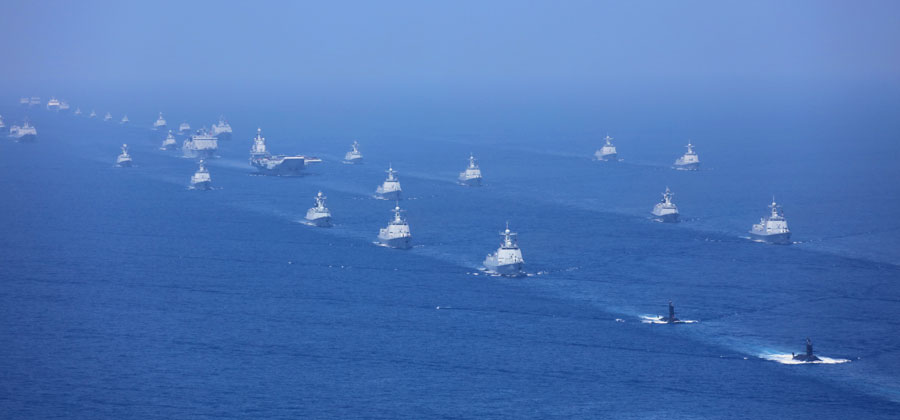 President Xi Jinping, also chairman of the Central Military Commission, said there had never been a more pressing need for a strong navy when he attended a naval parade in the waters off Hainan province on Thursday.
The display, involving more than 10,000 navy personnel, and a flotilla of 48 vessels, was held ahead of the planned live-fire military exercise in the Taiwan Straits on Wednesday.
The display and naval drill have been hyped by Western media as China showing-off its force, but such drills are essential for the People's Liberation Army Navy to develop its readiness to safeguard national sovereignty and maritime interests. The parade was a special review of the navy's development.
Since the 18th National Congress of the Communist Party of China, the country's leadership has shown its determination to build a strong military capable of defending the country's interests.
China has long strived to modernize its navy to guarantee maritime security. To achieve that goal, the Chinese navy has to strengthen its comprehensive capabilities both in terms of hardware and operational effectiveness.
China has held military training drills and exercises in other areas such as the East China Sea. And the drill and parade in the South China Sea, is of no difference to any other drills in the waters under China's jurisdiction.
Considering the pains the country suffered in its modern history because of its weak navy, it is determined to develop a stronger navy to safeguard its territory and people. Besides, developing the Chinese navy means it will also be better able to contribute to the world's peace and stability and humanitarian and rescue operations. To be a world-class navy, the Chinese navy should catch up with the world's most advanced navies.
However, it will take unremitting efforts to achieve the goal of building up a strong navy. Despite the Chinese navy's huge progress, it should be recognized that there exists a considerable gap between the Chinese navy and the navies of developed countries both in terms of technology and scale. It is critical for the Chinese navy to make breakthroughs in key technologies and its operational capabilities so that it can join their ranks.
Meanwhile, the Chinese navy should maintain a scale in keeping with its needs to defend its interests. The Chinese navy should increase its aggregate tonnage of naval vessels, which is currently relatively small, in order to increase its capability to confront the naval hegemonies in the world.
But no matter how powerful the Chinese navy grows, China will always follow a defensive defense policy and will never deviate from it. Moreover, the Chinese navy has never bullied any other country in the past, and will not do so as its strength increases. China will continue to carry out a defensive strategy and contribute to the maritime peace, and to fulfill those tasks requires it to build up a strong naval force.
It should be noted that some other countries constitute a severe challenge to China's interests and maritime peace, especially some powers that threaten China's sovereignty and interests in its waters in the name of "freedom of navigation".
The international community should realize that a rising China with a strong navy will be better able to safeguard its own national security and regional peace.
The author is a Beijing-based military expert.
Most Viewed in 24 Hours
China Views