Shared future, better world are explored at Vision China event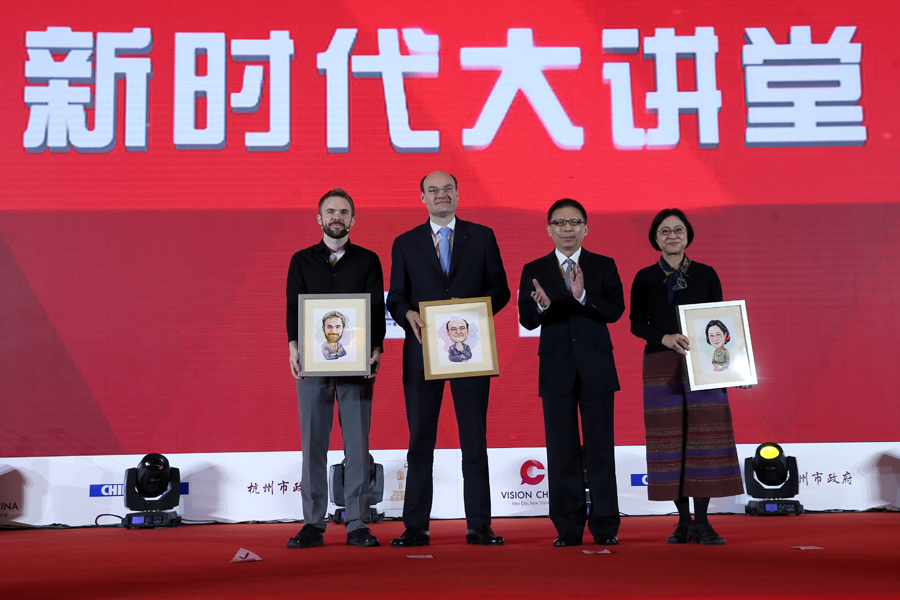 The second event of Vision China, a series of talks organized by China Daily, was held at the Hangzhou International Expo Center in Hangzhou, East China's Zhejiang province on Sunday. Themed "Shared Future, Better World," the event coincided with the awards ceremony of the 2018 Grand Final of the China Daily "21st Century Cup" National English Speaking Competition.
During the event, David Gosset, founder of the Europe-China Forum; Lu Li'an, vice-director of the College of Foreign Languages and Literature at Fudan University, and China Daily senior journalist Greg Fountain shared their perspectives on building a community with a shared future for mankind to an audience of more than 1,500, both from home and abroad.
Ge Huijun, chairwoman of the Zhejiang Provincial Committee of Chinese People's Political Consultative Conference (CPPCC) and director of the publicity department of the Zhejiang Provincial Committee of the Communist Party of China (CPC), said in the opening remarks that the major initiative of "advancing the building of a community with a shared future for mankind" put forward by President Xi Jinping five years ago has become a bright flag to guide this world trend and the direction of human progress amid changing international situations.