Video: Trump orders strikes against Syria
As so far, what we have known:
9 pm Washington time
Trump ordered precision strikes against Syria, in collaboration with the UK and France.
US attack targets multiple targets in Syria including a research center, a chemical weapon storage facility and a facility in the second target.
Syrian air defenses shot down 13 missiles fired in the attack, Syrian state TV said.
10:20 pm Washington time
US Defense Secretary Mattis said the air strikes on targets in Syria were, for now, a "one-time shot".
10:23 pm Washington time
Russian ambassador to US Antonov said Russia warned strike actions in Syria would not be left without consequences.
02:10 am Washington time
The Syrian military said over 100 missiles were fired during the US-led strike on Syria.
03:55 am Washington time
Russian President Vladimir Putin said in a statement that the strike launched by the US and its allies was "an act of aggression" against a sovereign state and Russia strongly condemns it.
5:30 pm Beijing time
Foreign Ministry spokesperson Hua Chunying said China has urged the relevant parties to return to the framework of international law and resolve the Syria issue through dialogue.
6:10 am Washington time
Syrian President Bashar al-Assad said the US-led attack on Syria reflects the "failure" of Western powers to achieve their goals in Syria after the defeat of the foreign-backed militants.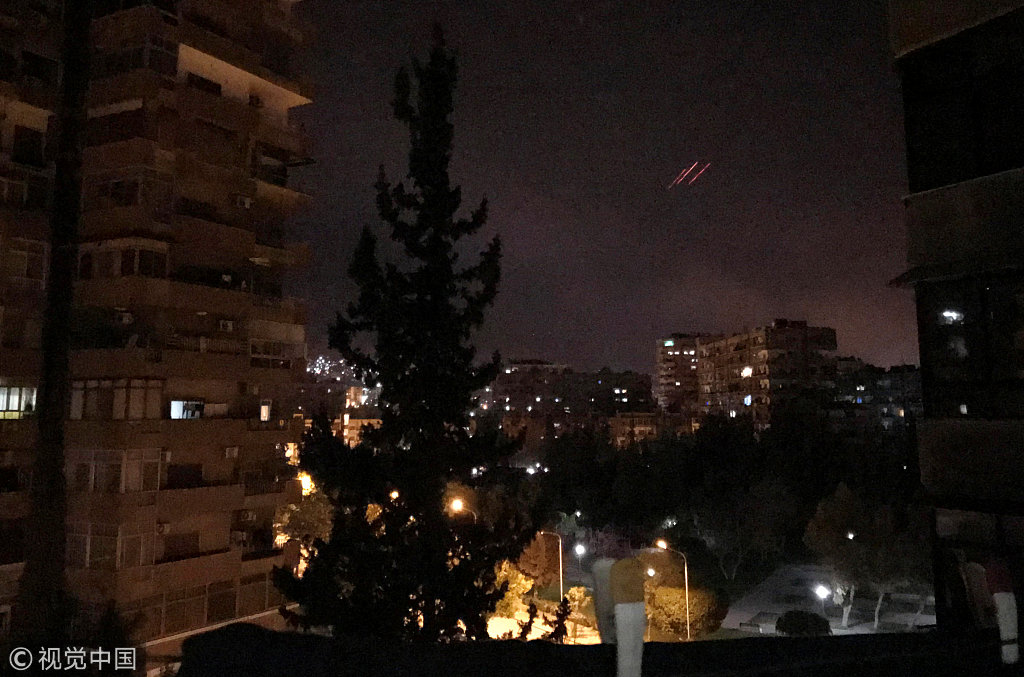 The United States and its allies waged more than 100 strikes on Syria on Friday in a "one time shot" that the Pentagon said the attack directly at the Syrian government.
US Defense Secretary Jim Mattis and Marine General Joseph Dunford said three main chemical weapons facilities were targeted by both missiles from the sea and fired from aircraft, which triggered Syrian air defenses.
The Pentagon could not confirm how many missiles hit their targets.
Mattis and Dunford acknowledged the strike was designed to degrade Syria's chemical weapons capability without killing civilians or the many foreign fighters in Syria's multi-sided civil war, particularly those from Russia.
"We specifically identified these targets to mitigate the risk of Russian forces being involved," Dunford told reporters, adding the US military advised Russia of airspace that would be used in the strike but did not "pre-notify them."
Mattis acknowledged that the US waged the attacks only with conclusive evidence that chlorine gas was used in the April 7 attack in Syria.