Xi: Local features needed in buildup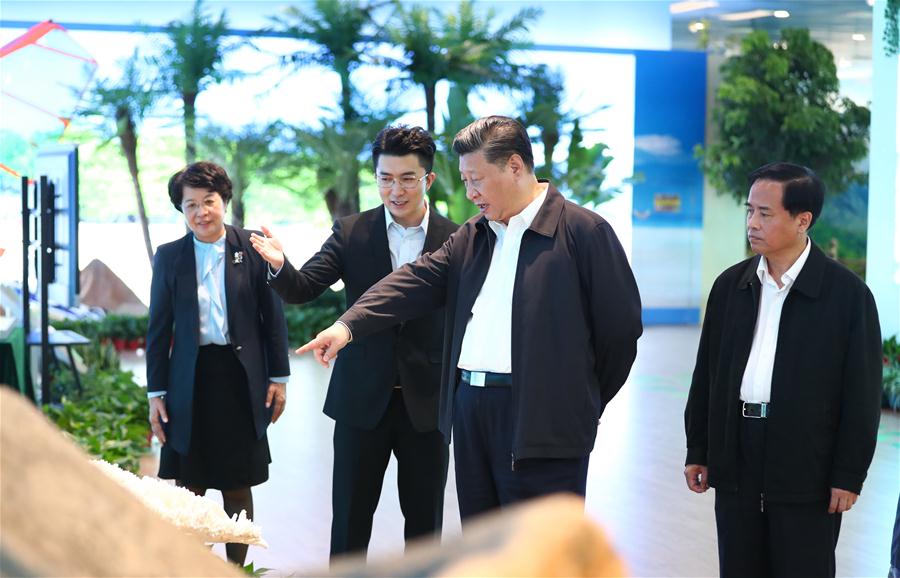 Xi Jinping, general secretary of the Communist Party of China Central Committee, has called for tangible measures in line with local conditions to translate into reality the spirit of the CPC Central Committee and to produce early and evident results.
Xi, on an inspection tour of South China's Hainan province, made the call when visiting an exhibition on Friday in the provincial capital of Haikou.
The exhibition presents the achievements of the past three decades in the Hainan Special Economic Zone. Xi endorsed the economic and social development there.
He learned about local infrastructure buildup and said the construction should follow the local environment, protect the ecology, avoid damage brought by road construction and value the fulfillment of plans and supervision.
When touring a local village in Haikou, Xi said local features are needed for developing sectors that could vitalize the rural areas.
Xi also visited the province's government affairs data center on Friday.
Earlier in the week, Xi attended and addressed the Boao Forum for Asia annual conference in Boao, Hainan.
After concluding his conference activities, Xi visited the planning hall of the Lecheng International Medical Tourism Pilot Zone in Boao on Wednesday afternoon. He listened to a briefing by Chinese academicians in front of an array of advanced medical equipment, and he looked at the pieces of equipment one by one.
He picked up a magnetically controlled capsule gastroscopy robot the size of a human finger, which was made in China, and asked how it was developed and used.
Xi called for efforts to uphold the thought of putting people first and to develop both the economy and public health in order to achieve the "Two Centenary Goals"-achieving a moderately well-off society by 2020, just before the 100th anniversary of the founding of the Communist Party of China, and building a prosperous, modern socialist country by 2049, the 100th anniversary of the founding of the People's Republic of China.
The health industry should be greatly promoted to make the nation physically healthy, Xi said.
On Thursday afternoon, he made an inspection tour in Sanya, and he learned details of an underwater glider and a deep-sea lander at the Institute of Deep-Sea Science and Engineering of the Chinese Academy of Sciences.
Xi greeted and talked with designers and staff members of the manned submersible Shenhai Yongshi (Deep Sea Warrior) at the institute.
Xi also visited the Nanfan Scientific and Research Breeding Base in Sanya on Thursday afternoon.
Alongside agricultural technical experts, Xi walked along the paddy ridgeway to check the super hybrid paddy rice growing there.
He talked to the experts about how the rice is produced and efforts to promote it.