One foundation, two goals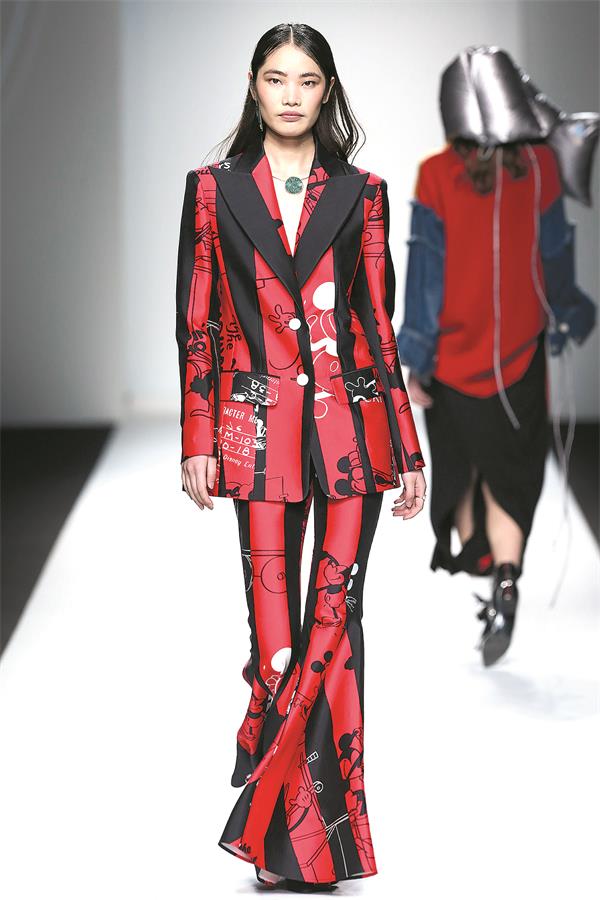 Bailian Group, China's leading retailer by sales, announced during the recently concluded 2018 Fall/Winter Shanghai Fashion Week (SFW) that it has established the Bailian Fashion Foundation with an initial investment of 100 million yuan ($15.9 million).
Chen Yijun, managing partner of this foundation, said that this investment could grow to 500 million yuan by the end of this year.
Some of the foundation's goals would be providing financial and technical support to local designers and building a global team of fashion buyers. One of its major projects would be the establishment of a fashion school in partnership with the Italian Accademia Costume & Moda to bolster the quality of talent coming out of China.
"Chinese companies have already become major players in the global technology and internet industries. It is just a matter of time before a Chinese designer reaches that level in the global creative industry," said Chen.
During a forum co-organized by the Business of France and Bailian Group which took place on the sidelines of SFW, Pascal Morand, president of the French Federation de la Haute Couture, noted that Chinese designers must first find their identities if they are to succeed on the world stage.
As young consumers today are more motivated by unique styles that reflect their individuality instead of big name brands, working with independent Chinese designers could also help draw more traffic to physical stores and in turn revive the flagging brick and mortar retail segment, said Chen.
The designers sponsored by the foundation would be given an option to sell their creations at the thousands of stores across the country operated by Bailian Group. Chen added that the group expects the sales of fashion products by designers backed by the foundation to amount to about 4.5 billion yuan by 2022.
With more than 4,700 sales points including department stores, outlets and supermarkets in 200 cities in China, the State-owned conglomerate operates nearly two-thirds of the shopping malls in Shanghai. Last year, sales by Bailian Group accounted for 28 percent of the total in Shanghai's retail industry.
"As a dominant player in the retail industry, we can help these designers showcase their creations at our stores which are located in prime locations," he said.
"E-commerce has drawn many customers away from physical shops. It's time we brought them back."
As part of efforts to wrest market share back from e-commerce competitors, the group is currently redesigning its shopping spaces to appeal to a younger clientele. In September, it launched The Balancing, a multi-brand store similar in concept to Lane Crawford, at one of its malls in Shanghai. In addition, the group has hired a small team of fashion buyers to source for the latest creations by designers all over the world.
Zhuang Lyuyi, director of the buyers' team for The Balancing, said the store represented a ground-breaking milestone for China's fashion industry.
"This is the first time in China an all-Chinese buyers' team is financed by a Chinese company," said Zhuang, who previously worked for Lane Crawford and Italian multi-brand store chain 10 Corso Como in China as a buyer.
She added that the store managed to hit the industry average for sales per square meter within just two months of opening.
"The biggest advantage we have over the big players is our intimate knowledge of local customers and their preferences," said Zhuang.
This success prompted the group to open a second store in Pudong after less than six months. A third store is expected to be launched in August. Zhuang noted that each store would stock a wide range of fashion and lifestyle products from up to 200 brands.
Established in 2002 as a stage for international luxury brands to host their debut shows in China, Shanghai Fashion Week has in recent years evolved into a multi-dimensional event incorporating not only runway shows, but also trade fairs, industry forums and a weekend-long party that is accessible to tens of thousands of visitors.
The event has also repositioned itself as a middleman who helps connect domestic designers with buyers and retailers from around the world. Last year, Lyu Xiaolei, vice secretary-general of SFW, vowed to build the event into "Asia's largest fashion season for buyers to place orders".
"Every project we plan and put on our already packed calendar is aimed at getting our designers more involved in the business world and boosting their sales," said Lyu.
This year, SFW hosted upwards of 100 shows — nearly double the number from two years ago — inside the prominent white tent set up on Taiping Lake at the city's landmark Xintiandi area.
The opening show of the event saw Mickey Mouse celebrate its birthday alongside 15 local designers, including Wang Haizhen and Ban Xiaoxue, who were involved in helping design a special collection that features the Disney character.
On the second day of the event, French luxury fashion house Dior held a showcase of its haute couture collection that was debuted in Paris in January. The fashion house also prepared a special segment especially for the Chinese audience — a 12-piece capsule collection inspired by Chinese folding fans that was created by Dior's artistic director Maria Grazia Chiuri.
Two Hong Kong fashion divas, Carina Lau and Rosemund Kwan, also unveiled the latest collections from their own fashion lines.
One of the SFW's biggest partners this year was Chinese e-commerce giant Tmall which hosted four shows that operated under the "see-now-buy-now" model.
Popularized on the global fashion stage about two years ago, this concept refers to how audiences, regardless if they are seated beside the runway or watching the event through a live stream, can instantly purchase fashion items they see on the catwalk via their mobile phones. Delivery of these products would take no longer than a few days, a stark contrast to the conventional process where a piece of clothing debuted at a fashion show could take up to six months to hit the shelves.
Contact with the writer at xujunqian@chinadaily.com.cn.