Ex-French PM: Peace and development is our shared wish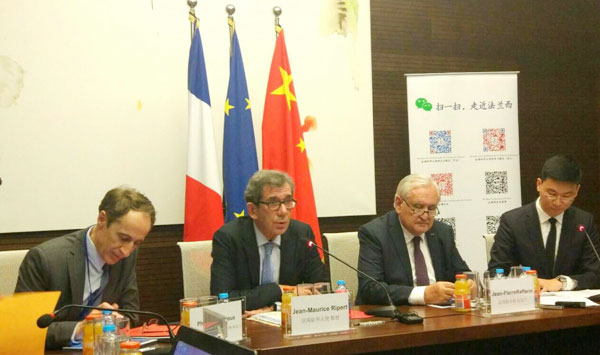 Former French prime minister Jean-Pierre Raffarin said on Wednesday that the peaceful message and strong wishes for development in President Xi Jinping's address to a major international forum is shared by the French government and people.
Xi delivered a keynote speech on Tuesday at the opening of the Boao Forum for Asia annual conference.
"I've listened carefully to President Xi's speech and I believe that the measures he proposed will bring great benefits to our countries and people", Raffarin told a press conference on Wednesday at the French embassy in Beijing right after taking a flight from Boao in Hainan province.
Xi announced a series of major measures to be taken to further expand China's opening up, including easing foreign equity restrictions, protecting intellectual property, and lowering import tariffs for automobiles.
Raffarin noted that the measures mentioned in Xi's speech for expanding China's opening up will be helpful in strengthening China-France economic ties and will also be beneficial to enterprises and the people in both countries.
France is also taking action to boost economic reform and market vitality under the leadership of President Emmanuel Macron, according to Raffarin.
Also, France's economy is becoming more attractive for overseas investment, which provides the perfect opportunity for the two countries to work and develop together, he added.
Raffarin said Xi's speech fully expressed a peaceful vision and showed strong leadership which is urgently needed in today's world.
To solve international disputes or conflicts, peaceful dialogue and communication should always be the first and right answer, Raffarin said.
The former French leader also spoke highly of China's Belt and Road Initiative, calling it an endeavor to promote dialogue and communication between Chinese people and enterprises with other countries.
He said he believes that the initiative has made a great contribution to the world economy and sets a good example to the global community.
Raffarin said that he looks forward to more of French enterprises participating in the Belt and Road Initiative, and he holds high hopes for the prospects of China-France economic cooperation.
"It's my mission to make sure those great wishes and prospects come true", he said.