In aging Thailand, developers race to supply locals and elderly expats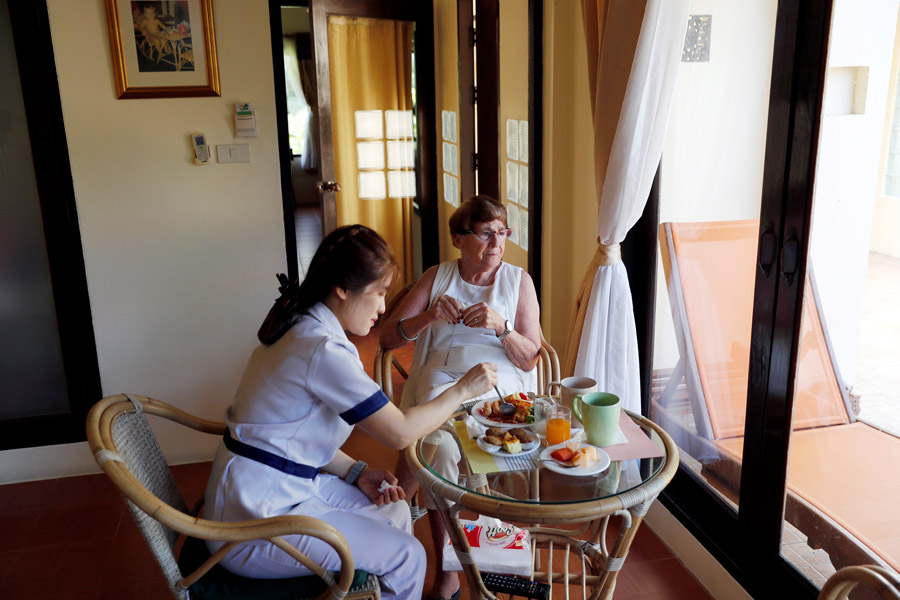 BANGKOK - At 79, Thai businessman Boon Vasin's latest $500 million venture is a bet on a market he knows well - looking after Thailand's rapidly growing population of old people.
Not only is Thailand aging faster than its neighbors, but it is also becoming an increasingly popular retirement option for foreigners attracted by its agreeable climate, low living and health costs and culture of service.
"We will look after them from their waking hours until they go to sleep," said Boon, chairman of the Thonburi Healthcare Group Pcl.
His Jin Wellbeing County is a 'medical city' for Thai and foreign retirees being built across more than 2 hectares on the outskirts of Bangkok. The first of nearly 500 housing units being sold in an initial phase are being marketed for nearly $130,000, plus additional fees of 7,000-8,000 baht ($224-$385) a month for meals and services ranging from fitness sessions to excursions.
Boon predicts care services will yield recurring profits of up to 240 million baht each year from the project, plus unit sales and medical services.
Together with China, Thailand is aging much faster than its regional neighbors. By 2040 it is expected to have the highest share of elderly people of any developing country in East Asia, according to the World Bank.
Thailand has 7.5 million people aged 65 and over, a figure projected to swell to 17 million by 2040 - more than a quarter of the expected population.
That's partly due to improving medical care extending life expectancies, but also a fall in birthrates from an average of more than six children per woman in 1960 to 1.5 in 2015.
In the past, generations of the same Thai family lived together and elderly were cared for by their offspring. But the changing population balance as well as a shift from the countryside to towns means that's impractical.
For his care home, Boon is focusing on people with an income of more than 100,000 baht a month - and not just Thais. The aim is to sell at least 20 percent of the project to foreigners, who are targeted along with locals in marketing materials.
"We have Chinese and Japanese buyers who are interested," he said, adding that he has partnered with a Chinese agent to sell 90 units worth 671 million baht to Chinese.
Thailand did not make the top 10 list of International Living's 2018 index for the best places to retire for US expats. Costa Rica was at number one and neighboring Malaysia at number five.
International Living described Malaysia as "easy and English-speaking". English is still not widely spoken in Thailand, particularly outside of the major cities.
The state has tried to address this by promoting English as a second language.
Reuters