Chinese students win awards in Canada
Share - WeChat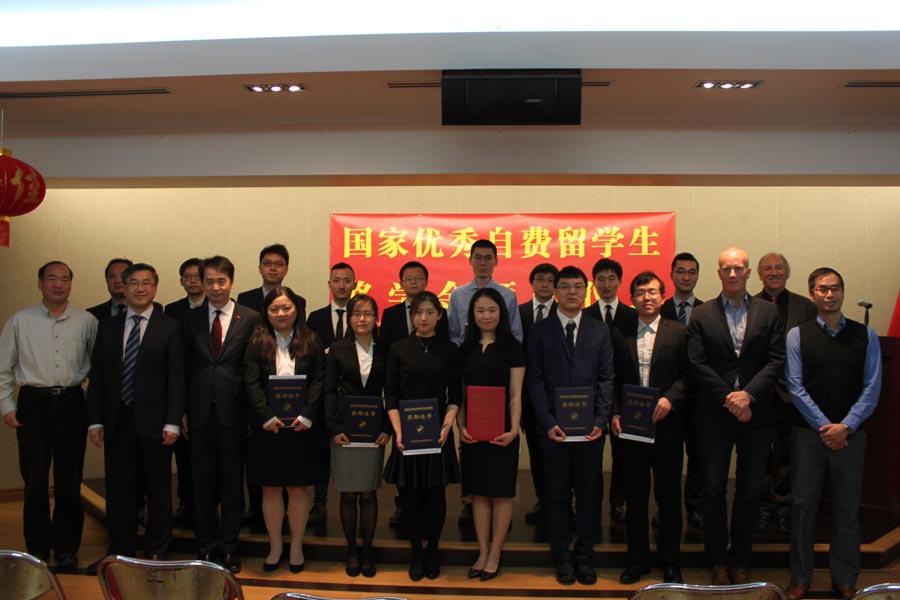 Outstanding Chinese students have made a difference in the field of Canadian research, according to Professor Ted Sargent, an internationally renowned researcher in nanotechnology and a vice-president of the University of Toronto.
Four Chinese students from Sargent's group received 2017 Chinese Government Awards for Outstanding Self-financed Students Abroad.
Among them, Gong Xiwen, a PhD candidate who has published in top-tier journals and developed a novel material platform called "quantum dots in perovskite solids", won the 2017 Extraodinary Potential Prize of $10,000.
"The brilliant students from China who are studying and doing research in Canada are remarkable. Your nation through them has chosen to make a real investment in our partnership and we appreciate that," Sargent said an awards ceremony held at the Chinese Consulate General in Toronto last Saturday.
According to Sargent, to be accomodating, the University of Toronto makes major investments in ensuring that its international students receive guidance in adjusting to the Canadian culture.
"I have seen the remarkable strength of research and the continued growth of partnerships between universities of these two countries," Sargent said.
Another distinguished professor, chemist Geoffrey Ozin, who has been called "the father of nanochemistry", said that he has been very fortunate to have the elite students from China.
Jia Jia, one of Ozin's students, who has published articles in top journals and developed catalysts for the conversion of greenhouse gasses into value-added chemicals, received an award worth $6,000. Her two co-workers in Ozin group, Chenxi Qian and Wei Sun, received the same award last year and the year before last year.
"Roughly five years ago Jia Jia and some other elite students joined my group," Ozin recalled. "And I had decided at the age of 70 it was time to focus my attention on the greatest challenge facing humanity today, which is climate change."
Ozin said they have unique groups working together, where half are Chinese students.
"This is where the entrepreneurship comes in and the relationship between China and Canada," Ozin said. "We can create joint companies, the two economies can benefit enormously from each other."
"I feel privileged to receive the prize. I appreciate the great attention and support from our country," said Gong Xiwen.
"It has become a good tradition in Ozin's group to win the Chinese government awards, and I'm so lucky to be in this group," said Jia Jia.
There have been more than 5,000 recipients of the award since Chinese government started to reward the excellence of Chinese students studying abroad in 2003. Some 500 outstanding Chinese students learning in different countries were honored in 2017, among them 15 are from Ontario and Manitoba in Canada, where over 80,000 Chinese students study in a range of academic disciplines.
"We fully support all the Chinese students to strive to study hard, to actively engage in innovation and entrepreneurship and to accomplish both safety and success out of their learning experiences here," said Chinese Consul General in Toronto He Wei.
"And we hope the students can become ambassadors to better promote the China-Canada relationship and civil communication," He said.
renali@chinadailyusa.com