Hospital on fast track to high level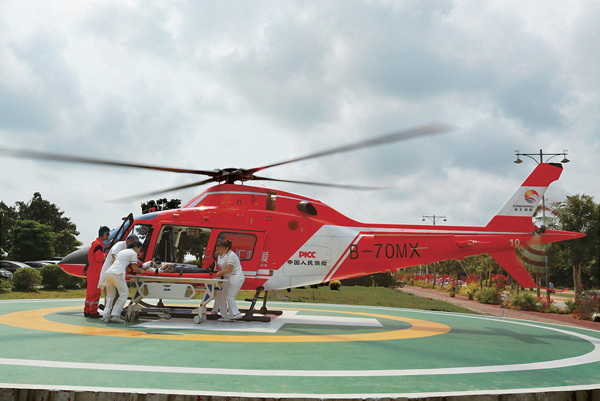 Facility in Boao will get speedy OKs to import advanced equipment, medicine
A new hospital in Hainan province is expected to become an alternative to top overseas hospitals.
Medical institutions at the Boao Lecheng International Medical Tourism Pilot Zone in Boao, where the Boao Super Hospital is located, can get speedy approvals from the Hainan provincial government to import sophisticated medical equipment that is urgently needed, according to a statement released on Sunday by the State Council, China's Cabinet.
In all other areas on the Chinese mainland, the importation of sophisticated medical equipment under current regulations requires lengthy procedures, inspections and approvals from the national drug supervision authority.
A demonstration project launched in 2013, the Boao Lecheng Pilot Zone enjoys several other preferential policies, such as simplified procedures for importing medicines and medical technologies and reduced tariffs for some imported medicines and equipment.
"Patients can have access to new drugs and equipment from overseas at lower prices, so I believe they will spend much less in the hospital than going overseas for treatment," said Li Lanjuan, president of Boao Super Hospital and a member of the Chinese Academy of Engineering. "The hospital will not only meet demand from Chinese patients but also some international patients, such as those from Southeast Asian countries," Li said.
More than 10 patients underwent surgery at the hospital during its first week, Li said, after the facility opened on March 31. It has 150 beds.
About 600,000 people from China traveled overseas for medical treatment in 2016 due to the unavailability of the latest drugs and equipment, Hainan Governor Shen Xiaoming said at a news conference in March.
Over the past 10 years, patients on the mainland have had to wait five to seven years longer for some major new drugs than patients in Europe and the United States because of lengthy approval procedures, according to the China Drug Administration.
Of 433 drugs approved for sale in developed countries between 2001 and 2016, only 30 percent are available on the Chinese mainland, it said.
This has caused an increasing number of people to buy drugs through the internet and from overseas, which has many potential risks, it said.
More medical institutions in the Boao Lecheng Pilot Zone will promote the development of medical tourism in the province, according to the city government of Qionghai, which governs the zone.
Today's Top News
Editor's picks
Most Viewed