Hollywood gets wakeup call from China's box office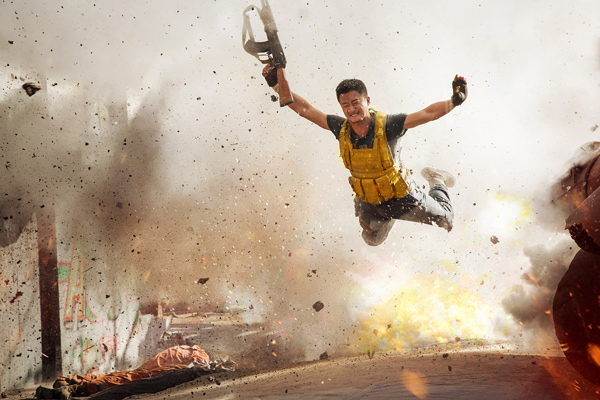 Hollywood knew it was coming, just not this soon.
Though the U.S. is still ranked as the largest film market in the world annually, this financial quarter through the end of March, marked the first time that the China box office outpaced the U.S., domestic cum, heralding the changeover to come.
China's film market came roaring back in 2017, from a stultifying market correction that had stalled growth in the Middle Kingdom at 3.5 percent in 2016, contributing a hefty 21.5 percent chunk of 2017's record-breaking worldwide box office of $39.9 billion.
Led by China's Operation Red Sea, another homegrown, patriotic action pic in the vein of Wolf Warrior 2, which raked in an impressive $574 million, plus Disney's Black Panther $105 million, and Legendary/Universal's Pacific Rim: Uprising's $85 million, Variety reported that China's 2018 first quarterly cume topped $3.17 billion, versus the U.S.'s $2.85 billion for the same period - an unprecedented feat.
"With China's population of 1.4 billion vs about 325 million in the U.S., it was always just a matter of time before this happened," Xian Li, Hollywood studio executive, and a leading expert in both the U.S. and China markets, told Xinhua Friday in an exclusive interview.
"The Chinese motion picture market is still young with a lot of room for growth, while the U.S. market is more mature and static," she added, noting the impressive speed with which China has ramped up its nascent motion picture industry.
By any estimation, the growth of China's box office has been nothing short of phenomenal. It leapt up 61 percent in 2010 to $1.47 billion, propelled by Chinese audience's embrace of Hollywood films, the newer 3D format screenings and homegrown Chinese fare.
Showing the largest sustained growth of any film market in history, China has rocked the box office, breaking the 2 billion U.S. dollars bar in 2011, surging ahead with sustained 29 percent growth.
In 2012, with grosses of 2.7 billion U.S. dollars, it outpaced Japan to become the second largest film market in the world. 2013 brought a mighty jump to 3.6 billion U.S. dollars, which was speedily put to shame by 2014's 4.82 $billion U.S., soon eclipsed by 2015's galvanic leap to $6.76 billion.
After its disappointing 2016, the China juggernaut was back on track in 2017, posting a $8.6 billion box office. And 2018 first quarter metrics are even better, showing a year-on-year quarterly gain of a whopping 39 percent over 2017.
2018 figures may have been boosted by the recent efforts by Chinese authorities to stamp out the practice of under-reporting ticket-sales and box office totals.
Analysts in the Chinese film industry currently predict that 2018 growth will maintain itself at a steady 15 percent to 20 percent for the rest of the year.
Dropping behind China for an entire quarter for the first time brought mixed reactions from Hollywood execs, ranging from concern to a sense of inevitability.