Li tells Singapore's prime minister China will work with ASEAN
Share - WeChat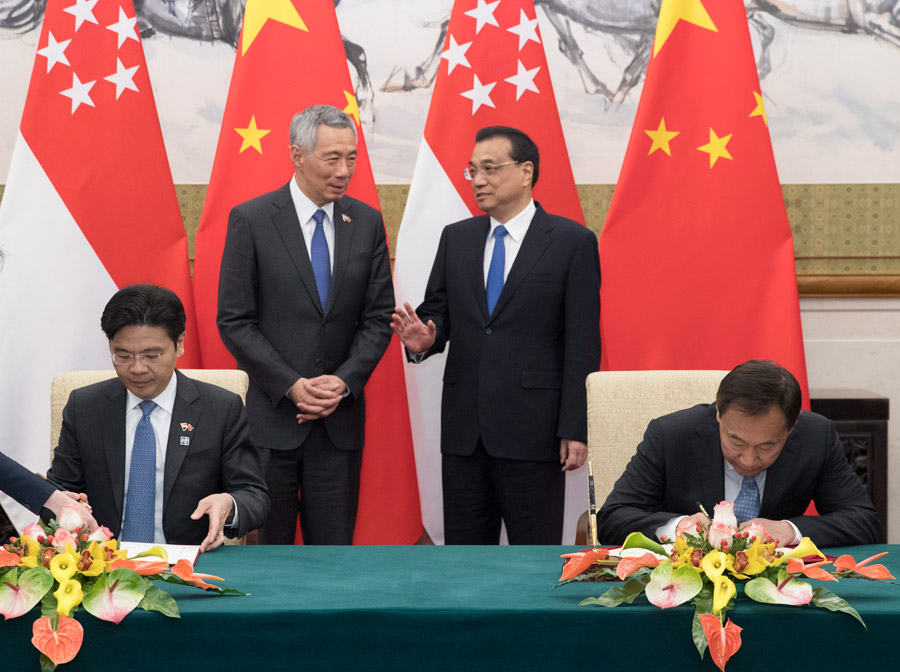 China is willing to bring benefits to surrounding countries through its own development and build a community of both shared interest and shared destiny with countries in the Association of Southeast Asian Nations countries, Premier Li Keqiang said.
Li made the remark when meeting with visiting Singapore Prime Minister Lee Hsien Loong in Beijing on Sunday. Singapore is one of the founding members of ASEAN.
This year marks the 40th anniversary of China's reform and opening-up and also is the 15th anniversary of its strategic partnership with ASEAN, Li said, and China stands ready to further deepen its reform and opening-up while firmly safeguarding the global free-trade system moving forward.
Noting that relations between China and Singapore are growing steadily and cooperation expanding smoothly in many areas, Li said China is willing to further consolidate political mutual trust with Singapore, work together in third market cooperation and further cooperate in defense, safety of law enforcement, education, media and think tanks so as to bring tangible benefits to the people of both countries.
He said China is ready to work with Singapore to jointly promote the construction of the Southern Passageway for ASEAN and deepen cooperation with the country in key areas such as infrastructure, connectivity and finance.
He said he hopes Singapore, taking the rotating chair of ASEAN this year, will continue to play a constructive role in improving China-ASEAN ties and further contribute to regional peace, stability and prosperity.
Lee told his counterpart that trade stands as the foundation for Singapore, and Singapore supports a multilateral trade system, liberalized trade and investment and a rule-based global trade system.
The two leaders witnessed the signing of two documents on third market cooperation and culture heritage protection.
Lee is on a five-day working visit to China starting Sunday, his second visit to China since September. During the visit, he will attend the Boao Forum for Asia's annual conference in Hainan. It will be his first time at the conference and he will deliver a speech at the opening session of the forum.
During a group interview on Sunday, Lee said China's economy has developed greatly since 2001, when it joined the World Trade Organization, and has both committed to and benefitted from the organization's multilateral rules, including submitting to dispute settlements. He said that "if unilateral and tit-for-tat actions escalate into trade wars, the multilateral trading system that has brought countries prosperity for decades will be severely undermined".
"There will be no winners in a trade war," Channel News Asia quoted him as saying.