Change in the air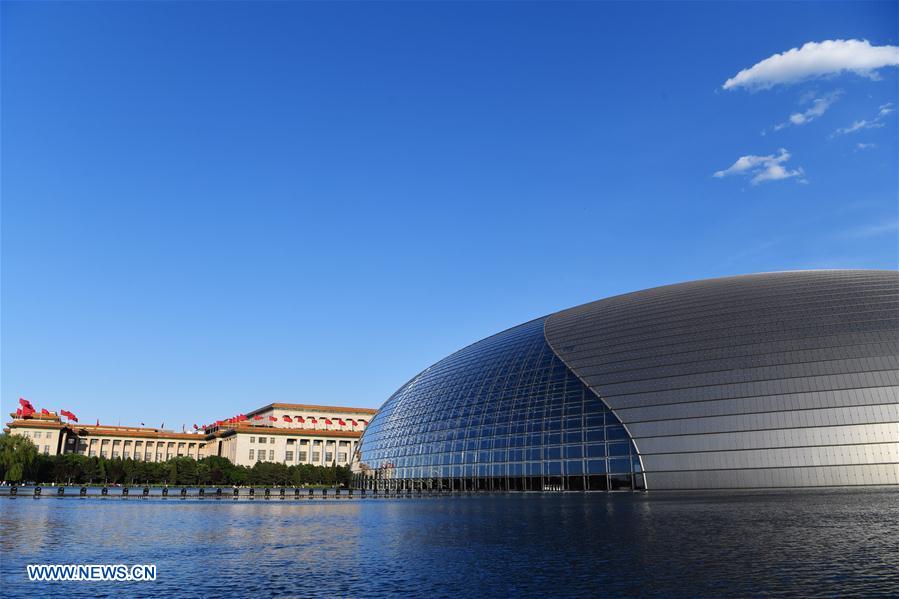 'Dramatic improvement' seen as use of more natural gas and less coal brings increase in blue-sky days to Beijing and surrounding region during the winter
China's use of natural gas surged by 19 percent in 2017, as areas across northern China switched to this relatively clean fossil fuel and away from highly polluting coal in residential heating and industrial uses, according to data from the former Ministry of Environmental Protection, now called the Ministry of Ecology and Environment.
This enabled those in Beijing and surrounding areas to enjoy many clear, blue-sky days this past winter, in sharp contrast with the heavy air pollution seen just a year ago.
Increased use of natural gas is a key part of plans to reach the national priority goals of creating an ecological civilization and higher-quality growth. These goals were stressed at the recent two sessions meetings of the National People's Congress and the Chinese People's Political Consultative Conference in Beijing.
Air pollution in northern China is usually worse in the winter, but this past winter saw unprecedented improvement. Largely due to the policy decision to shift to natural gas for heating and many industrial uses, the average concentration in Beijing of the most hazardous small particulate matter, PM2.5, fell in January by 70 percent year-on-year to 34 micrograms per cubic meter, the Beijing Environmental Protection Bureau said in a statement. It was the first time the figure was under the national standard safe level of 35, the bureau said. However, recent weeks have seen many days of high air pollution, although coming weeks are forecast to be clear.
From October to January, all 28 cities in the Beijing-Tianjin-Hebei region, also known as Jing-Jin-Ji, and surrounding areas saw winter air quality improve. For example, Shijiazhuang in Hebei province saw a decrease of 52.4 percent. Jining in neighboring Shandong province saw the smallest decrease, 8.4 percent, according to the ministry.
"The dramatic improvement in air quality mainly resulted from effective and tougher controls on emissions and advantageous weather to disperse pollutants," said Li Xiang, director of air quality management at the capital's Environmental Protection Bureau. Restrictions covered many sources, such as factories, vehicles and the burning of coal, she said, adding that more than 11,000 polluting companies were closed or moved.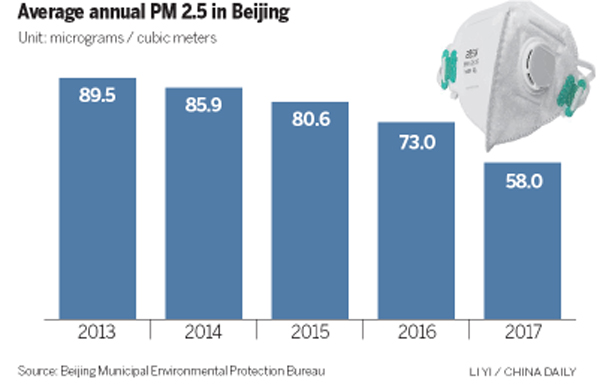 In 2013, Premier Li Keqiang announced goals to reduce pollution throughout the country. This was a fundamental change of direction from the previous emphasis solely on rapid GDP growth. Since then, policies to shift toward cleaner industry and energy brought down the average concentration of PM2.5 by almost 40 percent from 2013 in the Jing-Jin-Ji region. In Beijing, the average concentration of PM2.5 went down from 89.5 micrograms per cubic meter in 2013 to 58 mcg per cu m for the entire year of 2017-below the target of 60 set out when the campaign was launched and 36 percent below the 2013 level of 90. Throughout China, 338 cities saw an average reduction of 6.5 percent from 2016 levels.
Recent research by the Energy Policy Institute of Chicago estimates that the reductions in air pollution since 2013 add 3.3 years to life expectancy in Beijing and, in Hebei province, 4.5 years in Baoding and 5.3 years in Shijiazhuang.