Concerted effort to preserve genes of traditional culture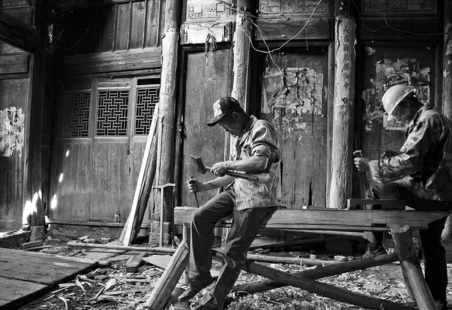 With three counties housing hundreds of traditional villages starting renovation projects in March, officials and experts say China is now ushering in a new era for protection of its traditional villages.
Jinxi county in Jiangxi province has 101 ancient villages. It began a project to renovate its old houses on March 18. In February, another two counties in Yunnan province launched similar projects.
"It is the best time for protection of ancient villages, " says Li Xiaojie, former director of the State Administration of Cultural Heritage and director of China Foundation for Cultural Heritage Conservation, which set up its Saving Traditional Houses initiative two years ago to help renovate traditional houses in urgent need of repair. Each of the three counties mentioned above receives a sum of 20 million yuan ($31.82 million) from the foundation.
In terms of law, money and regulations, China is now more actively protecting its ancient villages, which had been in danger of vanishing, says Li.
Since 2012, seven ministries, including the Finance Ministry and the Housing and Urban-Rural Development Ministry, have worked together to draw up a list of traditional Chinese villages nationwide. Each village on the list has 3 million yuan for its protection. It's also not permitted for old houses with long histories to be demolished.
Many houses in these ancient villages are on the verge of collapse, however. Young people move out from old houses that are often not convenient for modern lifestyles.
"Although old houses in villages are private-owned, they make up China's cultural gene and they are the root of Chinese culture," says Li, explaining why it is important to protect the old buildings.
In 2012, the first list of traditional Chinese villages was released, covering 646 ancient villages across China, each of which had a history of hundreds of years. Many of them were built during the Ming (1368-1644) and Qing (1644-1911) dynasties.
The list now covers more than 3,000 villages after being renewed four times. This year, it will be updated for the last time, adding more villages onto the protection list. According to Fu Qingyuan, an expert involving in updating the list, they received applications from more than 6,000 villages hoping to be on the list.
Fu says the number of application this year, was about 10 times of that in 2012, showing the strong awareness of the public about rural heritage.
"In the past five to six years, since President Xi Jinping started calling for the protection of traditional culture and heritage, more and more people have realized the importance of the old houses in villages," Fu says.
Since 2012, President Xi Jinping has promoted revitalizing Chinese traditional villages as a way to protect traditional culture on many occasions. He has also visited lots of ancient villages in rural areas.
From the central government to local authorities, many actions, regulations and money have been put into traditional village protection. However, there are still many difficulties, it is not as simple as just renovating the old houses, says Li.
"After a house is renovated, if there's no one living there, it will all have been in vain," adds Li.
Li suggests that traditional villages should find more ways to attract people to live in them.
"We should widen our eyes to find innovative ways to protect ancient villages and attract people returning to villages. The most important is to pass on our culture via these villages, " Li says.
After the houses have been renovated, most of the ancient villages turn to tourism, with the owners turning houses into homestay hotels, some of which are designed into modern style inside.
The villages try to attract tourists from cities by promoting their good natural environment, ancient houses and local culture. But other ways should also be found to revitalize these villages, so they do not become too commercialized, experts say.