Green burials promoted to save land and energy
Share - WeChat Authorities are trying to persuade people to break with traditional ways of dealing with the dead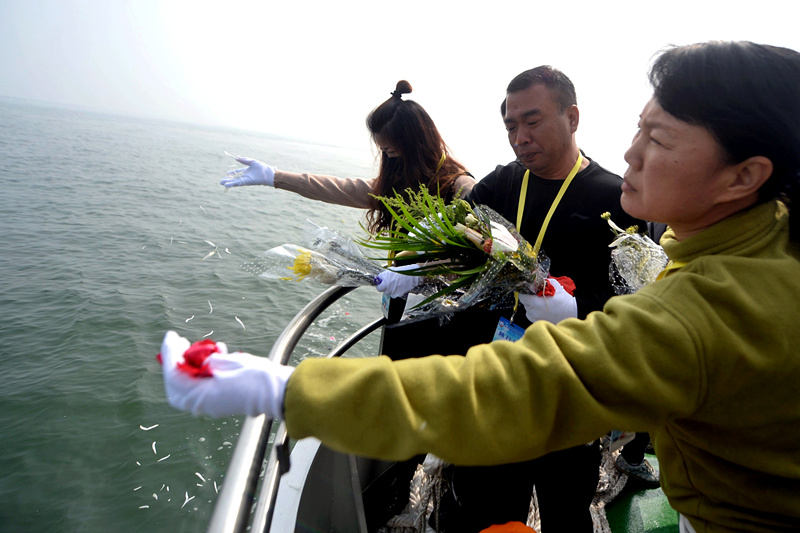 Sharp-eyed travelers on the railroad from Beijing to central Henan province will notice several barren grave mounds scattered across the fresh green wheat fields alongside the track. Some stand alone, while others are in clusters, but all are graced by a pine tree or a headstone.
"The mounds are just like pimples dotted on a girl's face. It's a kind of deep-rooted tradition in the area to bury people in their fields. However, this means graves not only occupy arable land, but also pose a threat to crop safety," said Yang Hu, director of the department of funerals and burials at the civil affairs bureau in Zhengzhou, Henan.
In urban areas, people mainly choose to purchase plots in cemeteries to store the ashes of the dead. A report published last year by Ouzi, an industry analysis and data service company, said the average cost of a funeral can reach 80,000 yuan ($1,273) in Beijing's urban areas, consisting of the cost of a plot, the funeral service and a feast.
The price of a plot of less than 1 square meter can be between 30,000 and 70,000 yuan, depending on location, size, the direction in which it faces and the material used to make the gravestone and monuments.
The report also indicated a pressing need to persuade people to abandon traditional funeral methods to save space.
Every year, about 3 million burial plots are added nationwide, while more than 4.5 million bodies have been cremated annually since 2014. Ouzi estimates that all the available plots will be occupied by mid-2022, roughly 18 months earlier than predicted by the Ministry of Civil Affairs in a 2014 report.
Last year, there were about 64.7 million plots, and 42.2 million of them were already occupied, the company said.
Sun Shuren, a professor at the Beijing College of Social Administration and also a standing member of the China Funeral Association, said all lives are equal and the balance of resources and the environment between generations should be guaranteed. That means people should save land for their descendants to achieve a sustainable society.
In 2016, the concept of "green funerals" was officially initiated and clarified in a guideline issued by the Ministry of Civil Affairs and eight other ministries and bodies, such as the forestry administration.
By "green", they mean funerals that not only save land, but are pollution-free. Scattering ashes at sea, storing them in cells in walls or scattering them near trees, grass and flowers are considered green funerals.
Biodegradable casket
On Saturday, a 58-year-old retired office worker in Zhengzhou who only gave her name as Chen, attended a free communal tree burial in a city suburb organized by the local government and Fu Shou Yuan Cemetery. More than 300 people, representing 90 families, buried the ashes of family members under saplings.