Xining - Historic gateway to the Qinghai-Tibet Plateau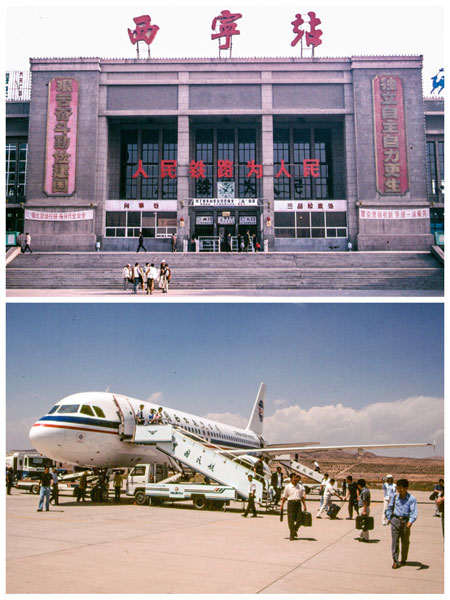 "You are heading where?" a friend asked when I mentioned I was going on a journey to Northwest China. "To Xining," I replied. "Why?" I sat him down and explained in some detail my fascination not just with China's western provinces and regions but also with Qinghai itself. In the 1990's the province was not a major tourism destination. Indeed it was developing, for example, through mineral extraction and related industries. However, my visits to that vast, lightly populated plateau revealed to me the opportunities that lay there both for exciting, adventurous travel plus great photography.
My first visit to Xining was a short stay in 1996, taking in some of the city along with nearby Qinghai Lake. Returning in 1997, traveling by rail overnight from Golmud, I expected to spend a couple of days but went on to stay for a week discovering so much of the city's colorful diversity. A third visit, in 2000, was a stopover en-route to Lhasa.
What fascinated me, from my first moments in the city, was how different Xining felt to the rapidly internationalizing cities of China's eastern seaboard. It resembled an interface where the country's developing urban scene increasingly encompassed so many ethnic groups, some having distant associations with the fabled Silk Road of ancient times. This ethnicity translated into some unique building styles within the growing modern skyline, for example the minarets of downtown Dongguan Mosque. One of the most significant and largest mosques in northwest China, it dates back over 600 years. Contemporary images show it has been considerably enlarged since my earlier visits. There felt a noticeable Islamic feel to parts of Xining - a reflection again of its position on the major trade routes that connected with central Asia. Along neighboring streets there were stalls selling books, calendars, circular white hats for men, carpets, teapots and much more. Older men with long grey beards would sit chatting near schoolchildren fascinated with large birdcages.
Simply walking around Xining or sitting at alley food stalls was for me fascinating as I tried to identify the various people. Around 37 different groups live in or around the city, particularly noticeable are the Hui, Tibetan and Tu people. It was noticeable how when traveling up onto the plateau west of the city and towards the Qinghai Lake an increasingly Tibetan feeling emerged.
Xining, Qinghai's capital, sits close to Gansu province. At around 2,200 meters the city is considerably lower than most of the surrounding plateau. However, its altitude creates summers cooler and significantly less humid than eastern lowlands, leading to its reference as 'Summer Resort Capital of China'. The altitude and mostly clear skies also produce a noticeable diurnal (day and night) temperature variation.
Most Viewed in 24 Hours
China Views