Where cabbage is king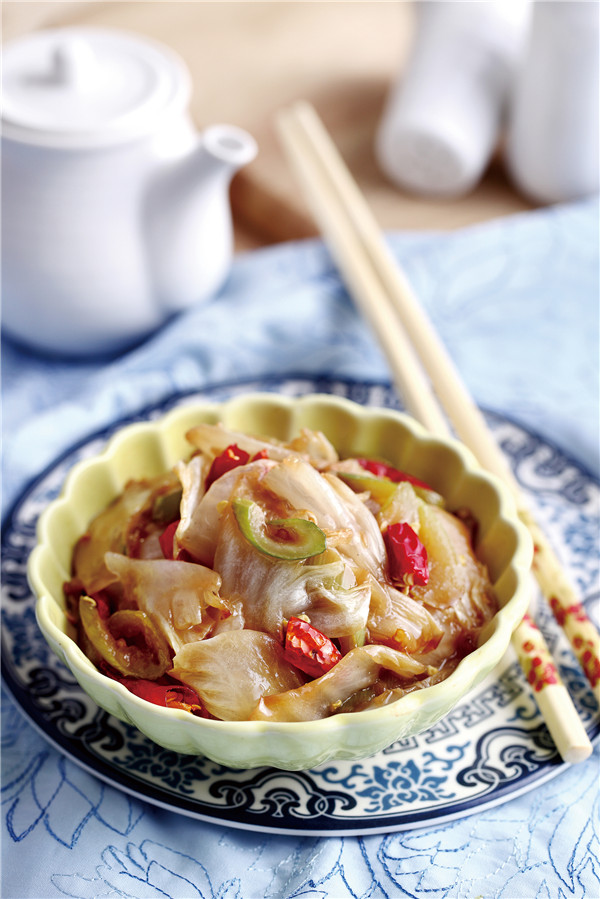 Traditional and fusion cooking styles, regional and international ingredients and a new awareness of healthy eating are all factors contributing to an exciting time for Chinese cuisine.
An emperor and his favorite consort used to admire a delicately carved ornament made of jade that was probably part of her dowry. It is a miniature head of humble cabbage, with a crisp white base and translucent frilled green leaves with two tiny insects resting on the vegetable.
The emperor was Guangxu of the Qing Dynasty (1644-1911), and this famous piece of jade is called the Jade Cabbage, currently one of the main exhibits of the Palace Museum in Taipei. It was taken from Yonghe Palace in the Forbidden City, the imperial quarters of the consort Jinfei.
This exquisite and valuable piece of art lauds one of the most common vegetables in China, while representing wishes for good harvests and fertility.
The Chinese cabbage is planted all over China, in all seasons, but it is in the cold northeastern provinces that it grows large and sweet and tender, and plays a starring role in the cuisine.
Whole cabbages are bought and stored for the long winter months, piled outside in courtyards and on balconies. Together with the huge Shandong leeks, it is one of the vegetables that will fill the winter larder.
Huge truckloads of white cabbages roll into Beijing around October and November, plentiful and cheap. So cheap, in fact, that "as affordable as white cabbages" has become a popular term for a great bargain.
Wise housewives load their shopping trolleys full of huge cabbages, often topped with a super huge bunch of leeks.
The vegetables are carted home and neatly arranged on the balcony, or in a sheltered part of the garden. Sometimes an old blanket is thrown over the pile to deter open thievery by either the two-legged or four-legged.
This has been a winter ritual for a very long time, from when times were hard and logistics were limited.
Sometimes, cabbages are pickled.