Ride-hailing driver finds daughter after 24-year search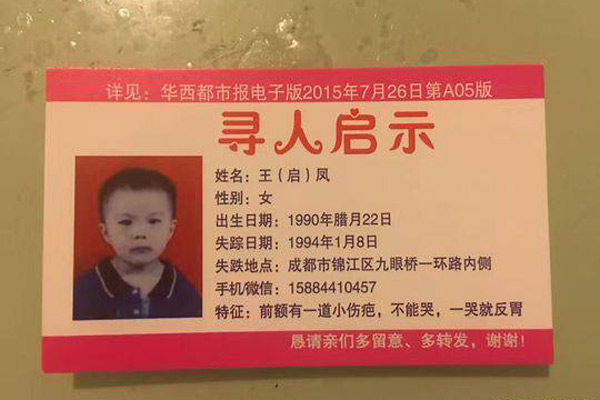 April Fool's Day is supposed to be filled with tricks and jokes, but a father in Southwest China's Chengdu city received the most valuable gift of his life on that day– he found the daughter he lost 24 years ago.
Police informed Wang Mingqing, a ride-hailing driver in Chengdu, Sichuan province, that a woman's DNA in Northeast China's Jilin province matched with his, and his daughter Wang Qifeng had been found.
Qifeng, born in 1990, went missing on Jan 8, 1994, when her parents working as fruit vendors turned their attention away from her to the customers. From that moment on, the couple started their journey of finding their daughter.
They went to the police station, children welfare center, searched the archives and posted missing person's report in the newspaper. They never gave up in the past 2 decades.
Wang Mingqing became a ride-hailing driver in 2015. This job could help him earn bread and butter, but most importantly it provided him opportunity to tell more people about his missing girl.
He handed a card with his daughter's information to hispassengers andrequested them to spread the word for him.
Everything comes to those who wait. His moving story spread across the country after it was reported by a local newspaper in Sichuan. A woman named Kang Ying in Jilin learned about it on the internet and got in touch with him.
They soon sent their DNA information to police, and to their immense joy their DNA matched.
Wang said his daughter is scheduled to fly to Chengdu from Jilin on Tuesday to meet him, and he plans to take her to meet their relatives in their hometown, Ziyang city.