Memorial held for the last male white rhino
Share - WeChat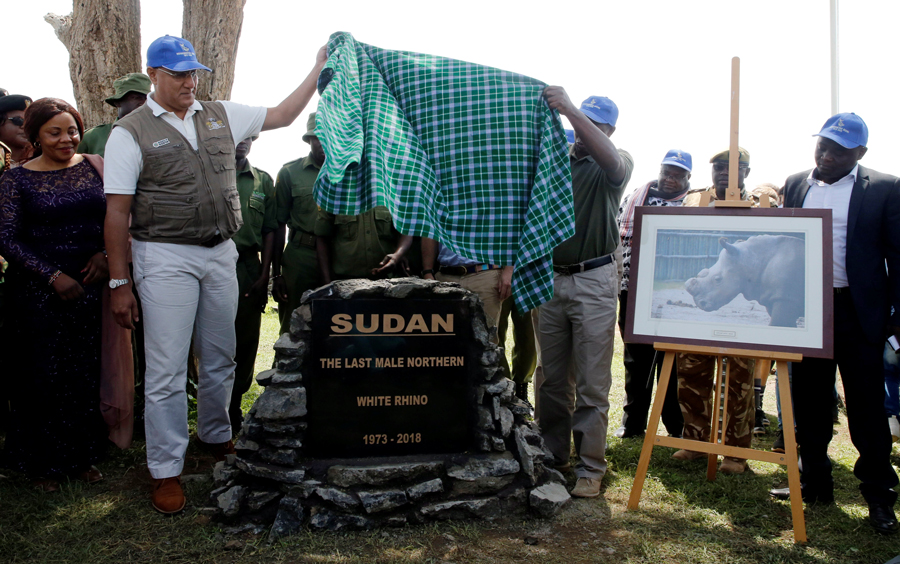 NAIROBI - Kenyan wildlife officials and global wildlife conservationists on Saturday converged at Ol Pejeta Conservancy in northern Kenya where a memorial service for the late world's only remaining male northern white rhino fondly named Sudan took place.
Kenya's cabinet secretary for tourism and wildlife, Najib Balala, and hundreds of conservationists graced the memorial service to honor Sudan who died on March 19 at the age of 45 after battling complications related to old age.
Balala, while unveiling a plaque in honor of Sudan who weighed about 3 tonnes, reiterated Kenya's commitment to protecting the giant land mammals like elephants and rhinos whose survival is at stake due to poaching and climatic shocks.
"Sudan represented the endangered species that today we have lost. We have a role to play in order to save this species," said Balala.
"We want to start a campaign that this heritage is not about the government. It is not about tourists coming and watching animals but it is ours to preserve," he added.
The last remaining male northern white rhino in the planet was born in 1973 in the wild Africa and later transferred to a zoo in Europe until 2009 when it was relocated to Ol Pejeta conservancy.
Sudan has left behind his biological daughter Najin and a grand daughter Fatu, whom he lived with at the Ol Pejeta conservancy located in northern Kenyan county of Laikipia.
Balala said Kenya will honor the memory of Sudan by devoting greater efforts to protect an estimated 1,200 remaining population of rhinos in the country.
At the same time, the Cabinet Secretary lauded China for banning of trade in ivory, saying the move will boost protection of elephants and rhinos. China honors its commitment to ending commercial processing and sales of ivory by the end of 2017.
"We want to thank China for the great job they have done by banning trade of ivory in China and we want to encourage the rest of the world to do the same thing," said Balala.
Sudan's demise has triggered urgency by international scientists and conservationists to rally behind modern reproductive technologies in a bid to ensure northern white rhino species do not become extinct.
Richard Vigne, the CEO of Ol Pejeta Conservancy, said that various technologies are being explored to halt total extinction of northern white rhinos.
"Najin and Fatu are the world's last remaining female northern white rhinos and they are under 24 hour protection. So far the technology for the recovery of the species has managed to remove eggs from southern white rhinos in European zoos," said Vigne.
"Those eggs have not yet been fertilized to a point they can be frozen as embryos, but experimentation is continuing to perfect that process," he added.
Xinhua