Tensions run high after Aeroflot search in London
Russia says that Heathrow event was a "provocation"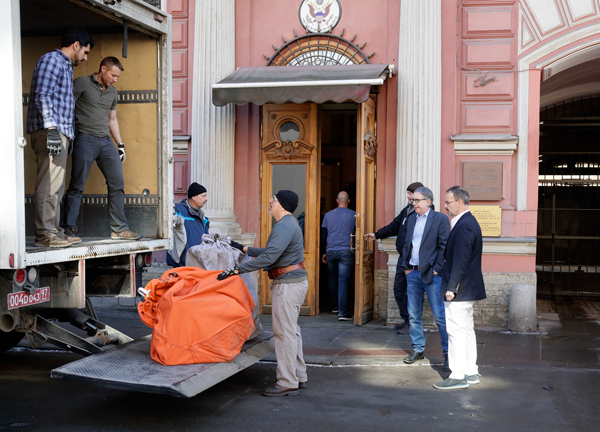 LONDON-Tensions continue to run high between Britain and Russia, with Moscow questioning the legitimacy an alleged search of a Russian passenger plane by British officials at a London airport on Friday, amid the aftermath of the Salisbury spy poisoning incident.
According to Russia's Aeroflot airline, British authorities searched the SU2583 jet at London's Heathrow Airport on Friday without any explanation, in violation of international practices.
The Russian embassy to Britain termed the event as "extraordinary" and called it a "blatant provocation" by the British authorities in a statement released on Friday.
It said it is "prohibited by the rules in force" for British officials to search the aircraft without the crew present, and the captain was allowed to take part in the search after "long negotiations".
The embassy also said the British officers refused to provide any written document that would specify the reasons for their actions, their legal foundation, and their outcome.
The Russian embassy said it has sent a diplomatic note demanding the British side provide an explanation, saying it reserved the right to act similarly against British airlines in Russia.
British Security Minister Ben Wallace said in a statement that it was "routine for Border Force to search aircraft to protect the UK from organized crime and from those who attempt to bring harmful substances like drugs or firearms into the country".
The Russian embassy also suggested in its statement that the plane search was in connection with the diplomatic crisis which has erupted following the poisoning incident in England.
Relations between Russia and the West have been strained after former Russian double agent Sergei Skripal and his daughter Yulia were found unconscious on a bench outside a shopping center in Salisbury on March 4.
Moscow denies involvement in the incident.
On Saturday, the Russian Foreign Ministry said Britain must cut over 50 more of its diplomatic and technical staff in Russia, after it summoned the British ambassador and told him on Friday that London has one month to downsize its diplomats stationed in Russia to the same level as Russia has in Britain.
Russia has already ejected 23 British diplomats and informed ambassadors of 23 countries of its decision to expel employees of their diplomatic missions in Russia, and close the US consulate in St. Petersburg.
More than two dozen countries announced the expulsion of around 150 Russian diplomats, in a sign of support to Britain, which has expelled 23 of them.
Xinhua