Ai Jing art exhibition opens in Shenzhen
Share - WeChat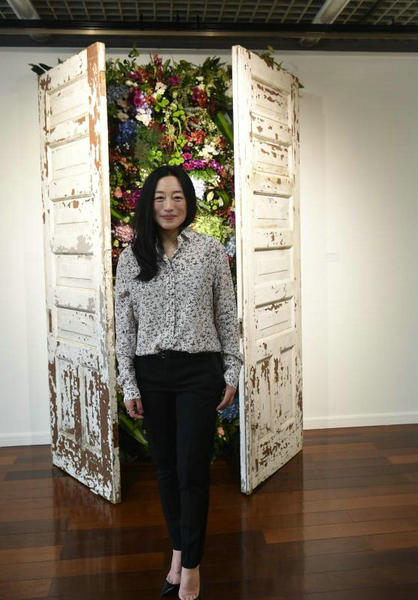 Singer-songwriter turned artist Ai Jing has launched her exhibition, Flowers Behind Every Door, at Shenzhen Art Museum. From March 25 to April 20, 13 artworks, including sculptures, installation and oil painting, are on display.
Five of the pieces are from Ai's two new painting series, I Love Color and Walking in the Sun, which have been exhibited at the Ambrosian Art Gallery of the Veneranda Biblioteca Ambrosiana Museum in Milan, Italy, in 2015 and the Marlborough Gallery, in New York, the United States, in 2016.
Other series, including I Love Heavy Metal and Flowers Behind Every Door, have been displayed at the National Museum of China in Beijing in 2012 and later at Shanghai's China Art Museum in 2014.
"We've seen her transition from a successful singer-songwriter to a contemporary artist. She keeps on creating new works and challenging herself," said the exhibition's curator Chen Lyusheng, also the deputy director of the National Museum of China.
A native of Shenyang, Liaoning province, the 47-year-old Ai learned music from her father, who plays the erhu (a two-stringed bowed instrument).
Her debut album, My 1997, sold more than 200,000 copies within one month of its release in 1993. Her second album, Once Upon a Time on Yanfen Street, was another success, which brought her recognition in areas outside the Chinese mainland, including Hong Kong, Taiwan and Japan — a rarity for mainland singers then.
She first went to New York in 1997 to seek inspiration for the album Made in China, and she wrote most of the songs for that album while living there.
She began her studies with renowned contemporary artist Zhang Xiaogang in 1999, eventually devoting herself to visual art.