Themed restrooms flushed with success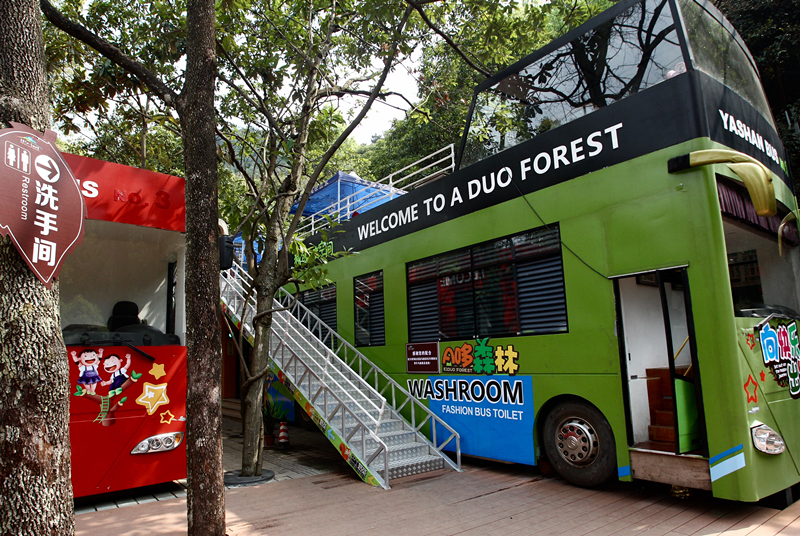 Yashan Mountain scenic spot, in southwest Jiangxi province, has long been renowned for its natural beauty, wide variety of trees and rare animals. Now, though, the area is gaining a new reputation thanks to nine newly built or restored restrooms for tourists.
Since 2007, the scenic spot which covers more than 20 square kilometers and is located about 10 kilometers from Ganzhou city, has attracted investment of more than 1 billion yuan ($160 million) from the local government and Dayu Zhangyuan Co, a local operator of agribusinesses, resorts and tourist developments.
The restrooms all have different themes, including bars, granaries and a bus. They were designed to incorporate recycled materials, such as discarded grain bins and tires, and are decorated with old gasoline cans, rearview mirrors, beer cans and farming implements.
Construction and renovation of the restrooms, which are spread across an area of 80 square meters, cost more than 5 million yuan.
In 2015, their innovative appearance and environmentally friendly design led to them being classified as three-star facilities by the provincial tourism development committee.
Zhang Zhiwei, head of the resort's administration, said the facilities reflect the surrounding landscape and farming traditions, so indigenous materials were used to highlight distinctive aspects of local life.
"We received strong financial support from local authorities to improve standards of hygiene in the restrooms. The provincial government promised to give us a subsidy of 150,000 yuan and the city government offered 50,000, provided we built the restrooms to three-star standard.
"We were also supported by members of staff, who gave us ideas and concepts when we drafted construction plans. For example, the restored bus was proposed by Liu Mingzheng, one of our electrical engineers, last year. We awarded him 2,000 yuan when his idea was accepted."
The restored bus, which sits at the side of the road in a forest leisure park, contains male and female toilets, along with unisex facilities and family restrooms which offer convenience to visitors with babies and people with disabilities.
Four more themed restrooms are under construction, and will open to the public at the end of the month, Zhang said.
Han Lei, director of Dayu Zhangyuan's marketing department, said the restrooms have already become landmarks at the scenic spot, and they will attract more investment which will be used to improve the business environment and offer a wider range of services, including vending machines, cafes and lounges.
"We want to become a role model for pushing forward the 'toilet revolution' in Jiangxi. It's a win-win solution," Han said. "The condition of the toilets has been greatly improved and that will bring more visitors and investment."
The national "toilet revolution" campaign, which aims to improve standards of hygiene and cleanliness at restrooms in scenic spots and rural areas, was started by the China National Tourism Administration in Jiangxi in 2015.
By the end of last year, the Jiangxi government had given the campaign more than 100 million yuan, while 640 million yuan of social capital had been channeled into the construction of nearly 3,000 restrooms across the province, according to a report by the provincial tourism development committee.
In December, Jiangxi was given an award by the administration, which has since been absorbed into the Ministry of Culture and Tourism, that emphasized its role in the toilet revolution.
The award recognized the work the province has undertaken to improve standards of hygiene at tourist facilities and provide greater convenience for visitors.