More dirty air lies ahead for northern areas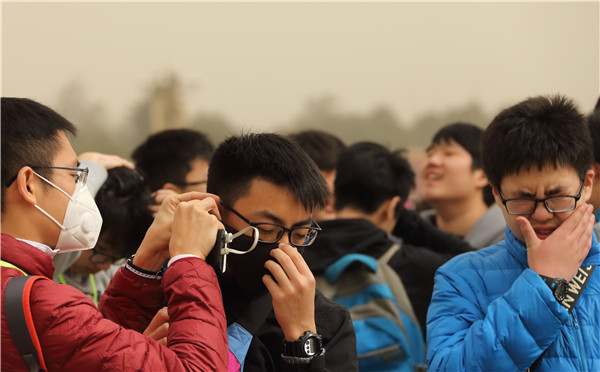 Beijing likely to see continued dust as cold front failed to move it out
The sand and dust that has blanketed much of northern China and brought air quality down to dangerous levels in many cities will be on the way out in many places by Thursday morning, but that won't last, the China Meteorological Administration said on Wednesday.
It forecasts that some parts of northern China, including the Xinjiang Uygur autonomous region and the Inner Mongolia autonomous region, are likely to be hit by several rounds of dusty weather again in the next 10 days because of cold fronts, the administration said. Some parts in the area will see sandstorms, it said.
Conditions in Beijing will continue to be dusty on Thursday before the air finally starts to clear, the administration said.
The Beijing Meteorological Service issued a warning on Wednesday morning on sandy and dusty weather in the city.
Sand blew in from Mongolia on Monday, affecting an area of 1.5 million square kilometers as of Wednesday noon, including the Inner Mongolia autonomous region; Shanxi, Hebei and Jilin provinces; and Beijing and Tianjin municipalities, the administration said.
The sand worsened air quality so much in many places that it exceed the ability of equipment to measure it, the administration said.
The density of PM10-particulate matter smaller than 10 microns in diameter-reached 2,000 micrograms per cubic meter at peak levels in much of Beijing, Tianjin, Hebei province and Inner Mongolia on Wednesday, it said.
Meanwhile, PM2.5 density-smaller particles that harm health-reached as high as 335 micrograms per cubic meter, in Beijing on Wednesday morning, resulting in severe pollution.
The administration advised people to avoid outdoor activities and shut doors and windows for protection, and to be alert for objects falling from high places as a result of wind.
Gui Hailin, chief forecaster at the National Meteorological Center, said spring is the usual season for blowing sand in many parts of northern China, including Beijing.
"Northern China has received little rain and has experienced higher than normal temperatures since March, which helps create dusty weather," he said.
Zhu Lili, chief forecaster at the China National Environmental Monitoring Center, said the dust started rolling into Beijing on Tuesday night, with sand blowing from the northwest.
"The cold air helped limit the level of PM2.5 in Beijing to some degree, but the dust also resulted in higher PM10 and PM2.5," she said, explaining that the cold front failed to disperse PM2.5 and improve air quality.
Beijing issued an orange alert for air pollution on Saturday, which required that various emission-reduction measures be taken starting from Monday to Wednesday this week, such as restrictions on certain vehicles and suspension of some types of construction work.
Hou Liqiang contributed to this story.