Rift behind rare show of transatlantic unity over Russia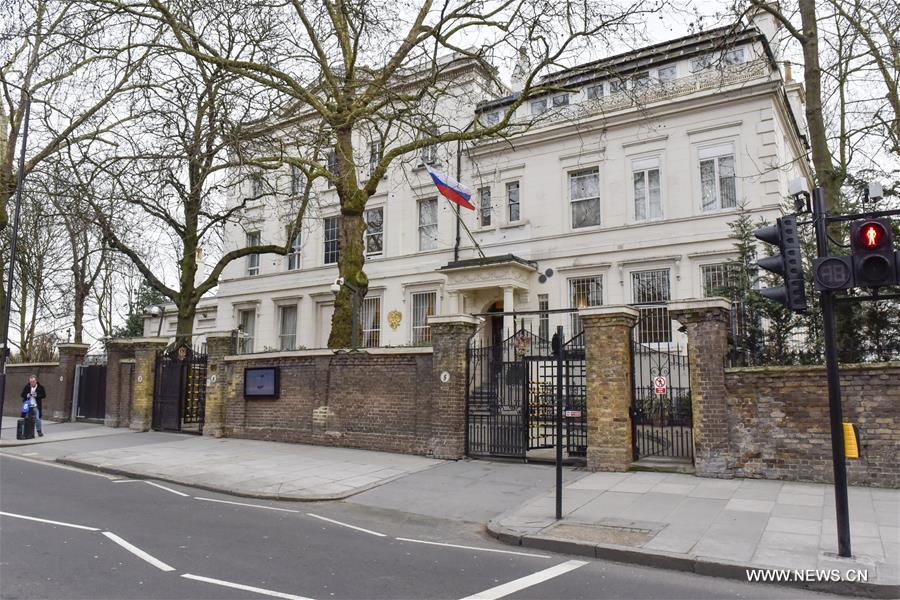 BEIJING - The North Atlantic Treaty Organization (NATO) on Tuesday joined 25 governments around the world to expel Russian diplomats over a nerve-agent attack on a former spy in Britain, an unprecedented collective action which London labeled as a "turning point" in the West's relations with Moscow.
However, underneath the moment of unity between the United States and its European allies, there are longstanding discord and distrust between the two sides of the Atlantic on strategies, interests and policies.
A RARE SHOW OF UNITY
The United States announced Monday that it would expel 60 Russian diplomats and close the Russian Consulate in Seattle to retaliate for the poisoning of Sergei Skripal, a former Russian intelligence officer, and his daughter in London earlier in March.
On March 15, the United States, Britain, France and Germany issued a joint statement condemning Russia over the incident, which was followed by the European Union (EU). The EU said last week it was recalling its ambassador to Russia.
At least 24 nations, including the United States and 17 EU members, have pledged to expel Russian diplomats.
On Tuesday NATO joined the alliance, declaring it would withdraw the accreditation of seven staff members at the Russian Mission to NATO and to deny pending accreditation requests for three other Russian diplomats following the "attack in Salisbury" against Skripal and his daughter.
"Those consultations have resulted so far in the expulsion of over 140 Russian officials by over 25 NATO Allies and partners," NATO Secretary General Jens Stoltenberg said in a statement.
"This is a broad, strong and coordinated international response. And as part of that response, NATO is unified in taking further steps," the statement added.
Despite NATO's support of Britain and its urge for Russia to address Britain's questions on March 14 and 15, Stoltenberg said that the alliance remained committed to a dual-track approach of strong defense and openness to dialogue, including by working to prepare the next meeting of the NATO-Russia Council.
Skripal, 66, and his 33-year-old daughter Yulia were found unconscious on a bench at a shopping center in Salisbury earlier this month.
They remain in critical condition after exposure to a nerve agent, which, according to the British authorities, could have originated from Russia.
Moscow has denied any involvement in the incident.
After European Council President Donald Tusk's announcement that a total of 14 EU countries would be teaming up with fellow member Britain in ordering out Russian diplomats, British Prime Minister Theresa May praised the "great solidarity" with Britain shown by the EU, North America, NATO and beyond.
She also warned that the West needs to develop a long-term response to the "renewed Russian threat."
DISCORD UNDERNEATH
In spite of the seemingly unified confrontational stance on Russia, there have been voices within these countries calling for dialogue.
German Foreign Minister Heiko Maas said "we remain open to constructive dialogue with Russia, which remains necessary on many international issues."
Finnish President Sauli Niinisto said on Monday that resources should be now focused on mending the widening rift between the East and the West. Meanwhile, Finnish Prime Minister Juha Sipila told a separate press conference on the same day that the decision to expel a Russian diplomat was not easy for the country.
The coordinated actions were not merely a response to the poisoning attack, US officials said. "It's also part of a broader set of actions that the Russians have taken for quite some time internationally: a steady drumbeat of destabilizing any aggressive actions."
Dan Mahaffee, senior vice president and director of policy at the Center for the Study of the Presidency and Congress, a US think tank, told Xinhua that the number of Russian agents has been viewed with growing concern in the United States and allied countries.
The US moves "are far more than symbolic as they are an attempt to hinder Russian intelligence gathering in these countries," he said.
Moscow has denied the accusation, calling the deportation of its diplomats "a provocative gesture."
The Trump administration has been under pressure from inside the country and the West. The mid-term elections urge it to "play tough" against Moscow, and Western allies have been disheartened by its reluctance to attack Moscow directly over the poisoning attack, as required by the NATO treaties, observers said.
The White House's ambiguity in dealing with Russia has also sparked rage and dissatisfaction inside the United States, where doubts of Trump' s "collusion" with Russia in the 2016 elections still linger.
Mahaffee said that it will continue to be a challenge for Trump to deal with Russia.
END OF TRANSATLANTICISM?
Since Trump took office, his "America First" policy has frequently collided with those of his European partners. He called NATO "obsolete," opposed the Transatlantic Trade and Investment Partnership, withdrew from the Paris Agreement on climate change, threatened to scrap the Iranian nuclear deal and announced moving the US Embassy in Israel to Jerusalem.
There has been increasing dissatisfaction in Europe towards the United States, with European mainstream media holding the view that even staunch Atlanticists can no longer deny the crisis in transatlantic relations and blaming Washington for posing threats to the common values shared across the Atlantic.
In the wake of Trump's announcement to impose a 25-percent tariff on steel imports and a 10-percent one on aluminum imports amid global opposition, the European Union (EU) planned "a whole arsenal" of countermeasures.
Europe "wants to avoid escalation" but "must keep the multilateral framework" because "protectionism is never the answer: protectionism is nationalism, nationalism is war and the war only makes losers," European Financial Affairs Commissioner Pierre Moscovici told a French television news channel earlier this month.
Trump has torn the mask off the US face and shown the true face of an unscrupulous and self-reliant world power, German politician Rolf Mutzenich wrote in his article entitled "End of Transatlanticism?"
The apparent solidarity between the United States and its European allies in expelling Russian diplomats could not cover up their differences on strategies, interests and policies which has been tearing the two sides apart.
The poisoning incident is just a small issue Washington is taking advantage of to show solidarity with its allies amid the escalating rift, analysts said.