North China blanketed by dust, sand
Beijing and nine other provincial regions in northern China were hit by dust and sand Wednesday, with PM10 readings approaching 2,000 micrograms per cubic meter in Beijing.
Sand sends smog soaring in Beijing
The air quality index in Beijing reached the maximum level of 500 on Wednesday morning due to sand dust blown in from Mongolia, the city government said.
The capital recorded high densities of both PM2.5 and PM10, which are fine pollutant particles that can damage the lungs, according to the local Environmental Protection Bureau.
The average density of PM10 — particles smaller than 10 microns in diameter — reached 1,976 micrograms per cubic meter by 7 am, the bureau's data showed.
Authorities say the smog is expected to last through the day due to a lack of wind and have advised residents to avoid outdoor activities.
Beijing issued a blue warning for dusty weather on early Wednesday, the first of its kind this year.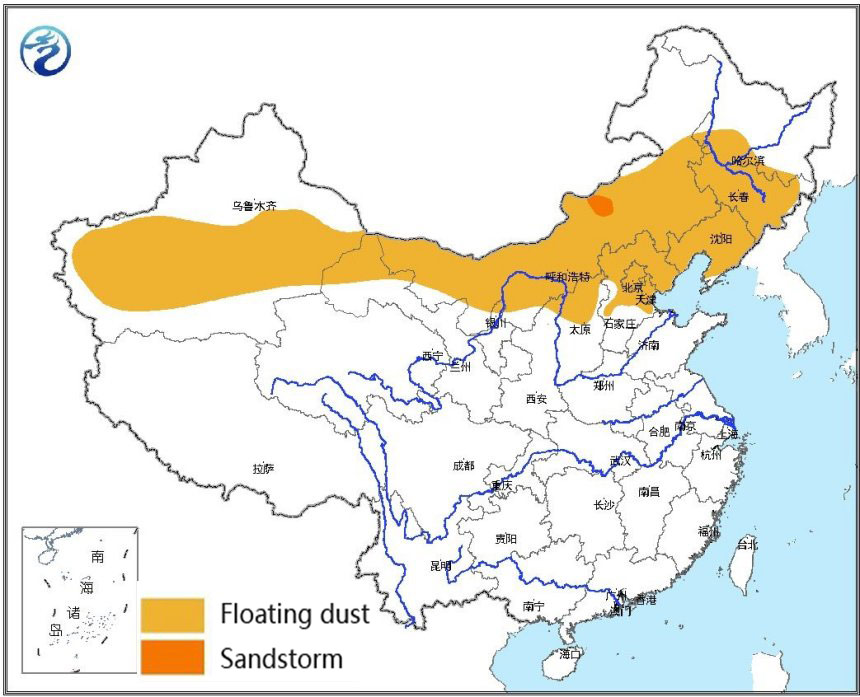 An area of 1.5m sq km blanketed by dust, sand
The National Meteorological Center said that the dusty weather in northern China began on Monday and has affected an area of about 1.5 million square kilometers.
Starting Wednesday night, the sandy weather is expected to begin abating, according to the center.
Part of Inner Mongolia autonomous region was hit with a sandstorm, with the lowest visibility less than 400 meters.
Affected regions also included the southern part of Xinjiang Uygur autonomous region, Shanxi, Hebei, Tianjin, Liaoning, Jilin and Heilongjiang.
Blue warning for northern China
The center issued a blue warning for dust and sand at 6 am Wednesday for the 10 provincial regions.
The nine other regions are southeastern Heilongjiang province, eastern Jilin province, Liaoning province, central and northern Hebei province, Tianjin, northern Shanxi province, central and western Inner Mongolia autonomous region, western Gansu province and the southern basin of Xinjiang Uygur autonomous region.