Makers of lucrative TCM cast net wider for future success
Share - WeChat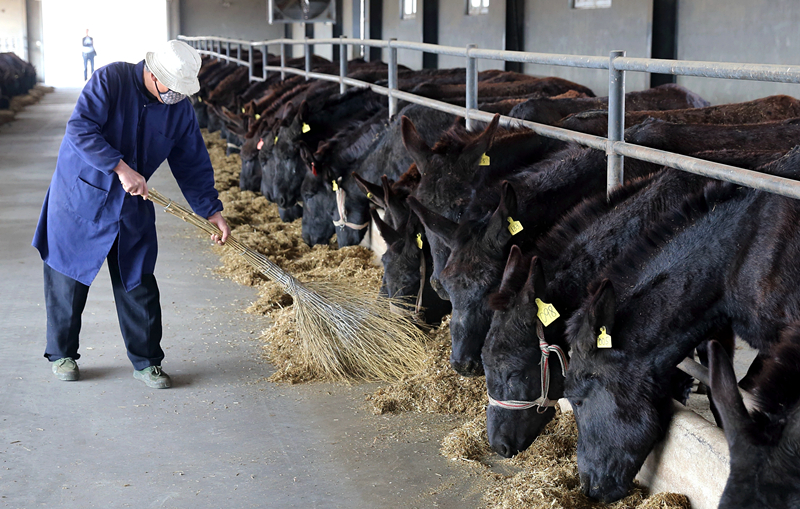 Producers of ejiao, a best-selling health supplement, are looking to overcome domestic difficulties, as Xin Wen reports from Liaocheng, Shandong province.
In recent years, traditional Chinese medicine has become a global phenomenon as a growing number of people in the West investigate the use of age-old remedies to treat modern ailments.
In 2016, the TCM sector earned 860 billion yuan ($137 billion), a year-on-year rise of 20 percent, accounting for about one-third of the country's medical industrial output, according to the State Administration of Traditional Chinese Medicine.
One of the most successful TCM products is ejiao, a gelatin preparation whose annual output value is estimated to be about 15 billion yuan.
The medicine, which has a history of about 2,000 years, is made from boiled donkey hides and mainly used as a treatment for anemia and menopause-related ailments.
In recent years, annual production of the lucrative product - a 250-gram jar sells for $179.99 on Amazon - has totaled about 5,000 metric tons, requiring the use of 4 million donkey skins.
However, the high demand, coupled with a decline in China's donkey population, has resulted in a marked rise in the number of skins imported annually.
According to the National Bureau of Statistics, the number of donkeys in China fell from 9.4 million in 1996 to 4.6 million in 2016.
The decline is partly a result of urbanization as farmers, who used the animals as beasts of burden, migrate to cities and traditional cultivation techniques are replaced by machines. There are now only enough donkeys to meet about half the annual demand of China's ejiao industry.
In response, the General Administration of Customs lowered the tariff on imported donkey hides on Dec 27. Meanwhile, on Jan 1, the administration cut the import duty on entire hides of a certain weight from 5 percent to 2 percent.
The UN Food and Agriculture Organization estimates there are about 44 million donkeys worldwide, mainly in Asia, North Africa and South America.
The shortage of donkey skins has seen Chinese manufacturers looking further afield to source supplies.
A new venture
To further fill the gap, small donkey-breeding facilities have been springing up in China, most notably in the eastern province of Shandong, where about 90 percent of ejiao is made.