Beijing gallery hosts a group exhibition of artists from New York City
Share - WeChat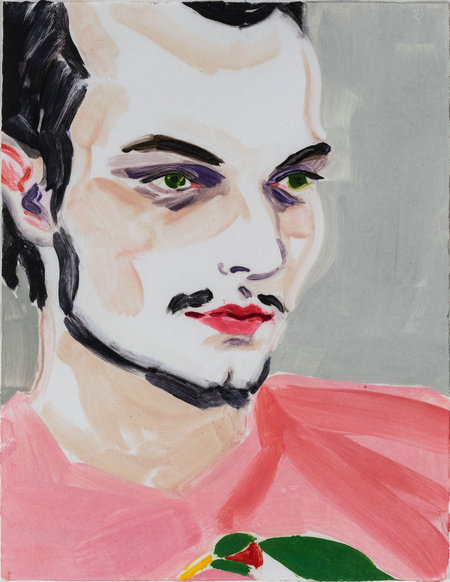 New York-based artist Spencer Sweeney is in Beijing on his debut visit but he's far from lonely.
He participated in the opening of the New York By Night exhibition in the Chinese capital on Friday.
The ongoing group show of works by him and 16 other artists based in New York at the HdM gallery displays paintings and installations by Sweeney and the other artists he met in the past two decades. The show presents the artists' ties to the city.
It's like a diary that gives people "a sense of the art community in New York, the energy and creativity", Sweeney says.
He has curated the show using his personal encounters in New York's art circle as the compass.
Elizabeth Peyton's portrait of Sweeney at the entrance of the Beijing show was drawn when they first met, when Sweeney was playing for a band. Peyton, who was a renowned painter by then, asked whether Sweeney could sit down for a portrait and later became friends with him.
Paintings by members of his art-rock band, Lizzie Bougatsos and Sadie Laska, together with Sweeney's, are placed on the walls at the exhibition. The band often gets invitations to perform on openings of art exhibitions.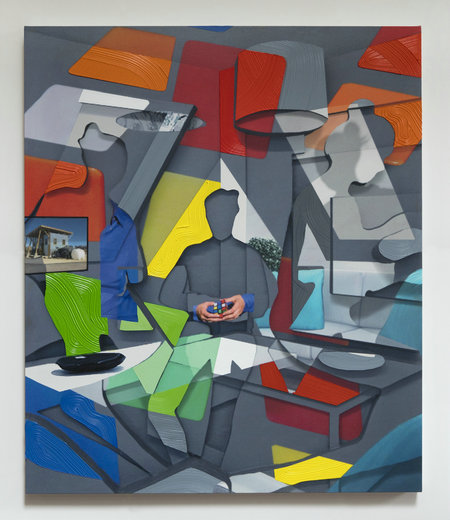 This is also the first time he has curated an art show that has included a lot of his friends. To organize the show, he spent two days visiting their studios in New York. They used to party together many years ago but now do their own art separately, so it was quite an "emotional experience", says Sweeney, who is also a musician, a former club owner and DJ.
When he asked his artist friends whether they'd like to be presented in Beijing, they said they were excited.
Hadrien de Montferrand, founder of HdM gallery, says members of the art community led by Sweeney have personal takes to offer about their lives in New York, and Sweeney came up with the idea of presenting a group show when asked about the energy and creativity of the city.
"I can feel the energy from him, his guitar, his band, his club, his drums. He is at the center of the creative community of New York," Montferrand says.
Sweeney is now running an experimental project in New York at his studio. Every Sunday night, he holds a jazz party, and offers drinks, food and music to anyone interested. People whom he has never seen before drop by and artists draw at the venue. Painters usually paint alone, but Sweeney's parties allow people to watch the process of creating art.
"It's a new way of strengthening the art community," he says.
If you go
10 am-6 pm, through May 6. No 4, Jiuxianqiao Road, Chaoyang district, Beijing. 010-5978-9320.
Most Popular