Boost for wild animal and forest protection in region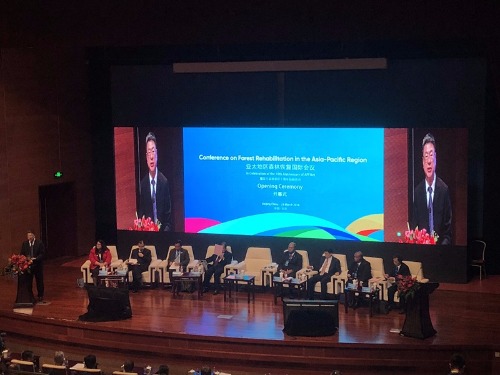 Two cross-border cooperative mechanisms for wild animal and forest protection were launched in Beijing on Monday morning.
The mechanisms were launched during 10th anniversary celebrations for the Asia-Pacific Network for Sustainable Forest Management and Rehabilitation, or APFNet, which was launched in Beijing in September 2008.
The China-ASEAN Forestry Technology Cooperative Mechanism will boost technology exchanges in the region.
Programs will include sponsorship of conferences, visiting scholars, small research projects and forums for young scholars. Forestry research institutes in the region will be the major beneficiaries.
Another mechanism dealing with cross-border wild animal protection was launched by six countries: China, Laos, Myanmar, Vietnam, Thailand and Cambodia.
"We want to promote a comprehensive management approach toward forest protection, which should not only focus on trees, but also wild animals living in the region because they have a curial influence on the whole ecosystem," said Lu De, the executive director of APFNet.
He said the mechanism will contribute to information exchanges and the building of ecological corridors in border regions.
Details of the new mechanisms will be hammered out at a conference of APFNet member states and organizations in Beijing on Wednesday.
"China devoted a great deal of effort to forest recovery and has launched many projects nationwide in the past decades," said Peng Youdong, deputy head of the State Forestry Administration.
He said about 6.6 million hectares of forest have been planted each year in China in the past three decades, with the country's forest coverage soaring from 8.6 percent in 1949 to 21.66 percent last year.
"We will continue efforts to achieve better forest restoration and biodiversity," Peng said. "We will contribute our experiences and new ideas to other member countries, helping to build a greater world together."
The establishment of APFNet, proposed by China and co-sponsored by Australia and the United States, was agreed at the 15th Asia-Pacific Economic Cooperation leaders' meeting in Sydney, Australia, in September 2007.
The aim is to promote forest rehabilitation, reforestation and afforestation in the region and increase its forest coverage by at least 20 million hectares by 2020.
The network also aims to strengthen sustainable forest management and improve forest quality through climate change mitigation and adaptation responses, and to increase carbon sequestration.