Discerning the essence of Xi Jinping Thought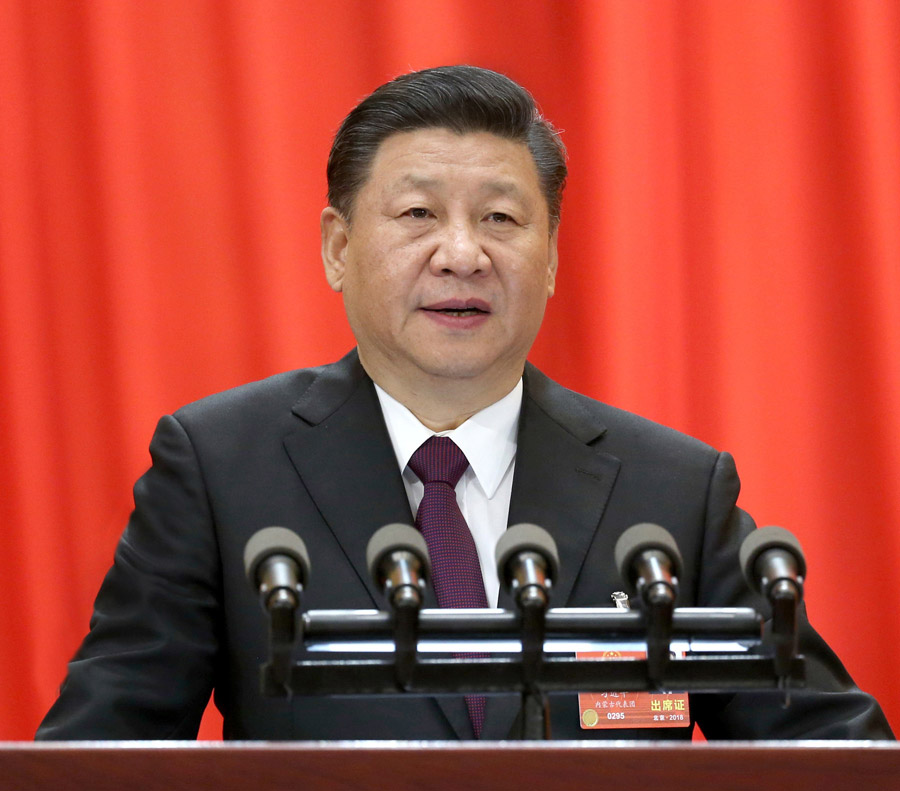 President Xi Jinping's keynote speech at the closing meeting of the 13th National People's Congress this month, articulating his grand vision for China's new era, was the capstone of a historic political period that commenced with the 19th National Congress of the Communist Party of China last October. Xi's NPC speech was sweeping in its scope, presenting fundamental principles, visionary goals, strategies to achieve those goals and policies to implement those strategies.
I have been focusing on Xi's speeches and commentaries, including those offered in his book The Governance of China, as a resource for discerning Xi's political theories and philosophies, which construct the foundation on which his administration is built. I seek core categories to encapsulate the essence of "Xi Jinping Thought on Socialism with Chinese Characteristics for a New Era", which, as everyone who knows China now knows, is inscribed in the constitutions of both Party and State as the contemporary declaration of the guiding ideology.
I see Xi's speeches through the eyes of a scientist — my doctorate is in brain research — and I analyze them with the mindset of a philosopher (my US television series, "Closer To Truth", applies philosophy to appreciate science). To understand Xi's political philosophy as a system of thought, I consider each element of his big speeches, and each of his book's articles, as data points from which one can infer and induce theories on Xi's political philosophy, and subsequently test and refine those theories.
Xi's speech to the 2018 NPC contained dozens of ideas, and the two volumes of his book have about 35 topics or chapters; there is overlap as topics continue to be developed over time. How then to systematize and structure Xi's political philosophy? An organizing framework or way of thinking is needed.
First, a disclaimer. My proffered framework of Xi's political philosophy is one of many, and there is always danger of oversimplification for the sake of structural elegance. Similarly, there is always tension between coarse-grained and fine-grained portrayals: the former enables big-picture, holistic principles; the latter, sharp specificity and focus. A critical test is explanatory leverage: how well a model or theory can account for real-world data, in this case the many concepts in Xi's NPC speech or the roughly 175 articles in 35 chapters of The Governance of China (both volumes). This is as much art as it is science.
What I've come to is this: I view Xi's political philosophy — "Xi Jinping Thought on Socialism with Chinese Characteristics for a New Era" — from three different perspectives: objectives, frameworks and timeframe.
I suggest there are five fundamental objectives Xi has stressed: people orientation, national rejuvenation, optimized development, global engagement and Party leadership. The idea here is that all or almost all the topics in Xi Thought, all the ideas in his NPC speech or all the chapters of Xi's governance books, can be classified under one of these five categories. Collectively, the first two — people orientation and national rejuvenation — compose "The Chinese Dream".
I suggest five conceptual frameworks that Xi has formulated; these are the means to achieve the objectives.
First, the overall vision of the "Five in One" construction: economic, political, cultural, social and ecological.
Second, governance of the country via the "Four Comprehensives": comprehensively building a moderately prosperous society, deepening reform, strengthening rule of law and strictly governing the Party.
Third, economic development via the "New (Five Major) Development Concepts": innovation, coordination, green, open and sharing.
Fourth, internationally, "a community with a shared future for all humanity", or beginning a new kind of global governance and the visionary significance of the Belt and Road Initiative.
Fifth, Party building through inner-Party discipline and directives such as the "Four Consciousnesses" of the ideology, the whole, the core and the line, and the "Three Stricts and Three Earnests".
As for timeframes, there are three time periods for the "great rejuvenation of the Chinese people."
First, from 2018 to 2020, the three years leading to "the moderately prosperous society"; this first time period focuses on the "three tough battles": controlling financial risk (including supply-side structural reform), eliminating extreme poverty and reducing pollution.
Second, from 2020 to 2035, during which the country will basically realize "socialist modernization". For example, by 2035, the goal is to complete the transformation of China's legal system, with theoretical foundations and practical enforcement. Also by 2035, the PLA intends to complete military reform and modernization, with IT/cyber applications and strategic capabilities prioritized.
Third, from 2035 to 2050 — 2049 being the 100th anniversary of the People's Republic of China — China will "develop into a great modern socialist country" that is "prosperous, strong, democratic, culturally advanced, harmonious and beautiful." Mid-century China is envisioned as a global leader in every area of human consequence: economics and trade, science and technology, diplomacy and global governance, military and defense, culture and social concerns.
A way to think about how these objectives, frameworks and timeframes work together is to imagine each as an axis in a three-dimensional space. In this way, the elements of each of the three interact with elements of each of the other two. Hence, the five objectives, five frameworks and three timeframes form a kind of matrix, with each cubic cell suggesting new ways to pose questions and explore possibilities. For example, one could ask, how do the "Four Comprehensives" contribute to people orientation from 2020 to 2035? Or how might "a community with a shared future" drive China's global engagement strategy between 2035 and 2050?
With this model, I went back to Xi's NPC speech and his books, mentally allocating specific topics or chapters to different locations in the model's space. I found myself seeing deeper connections and finding deeper meaning.
The author is a public intellectual and China commentator. He is co-creator (with Adam Zhu) and host of CGTN's Closer to China with R.L. Kuhn and The Watcher commentaries.
Most Viewed in 24 Hours
China Views