Zoo apologizes for mistreating red-crowned crane
A zoo in North China's Shijiazhuang city apologized to the public and punished a breeder who was accused of mistreating a red-crowned crane, a bird under top-level national protection.
The Shijiazhuang Zoo said the breeder, surnamed Chen, has been suspended from his position and was ordered to self-criticize for the incident, according to a report from xinhuanet.com on Sunday.
On March 23, a netizen with the screen name "lovelove_cc" said in a post on Sina Weibo when she and her family visited the zoo in Shijiazhuang, Hebei province on the day, they saw a worker at the zoo beating a crane with a stick in an enclosure.
She said she saw a bloodstain on the right wing of the crane, and it was unable to stand up after being injured.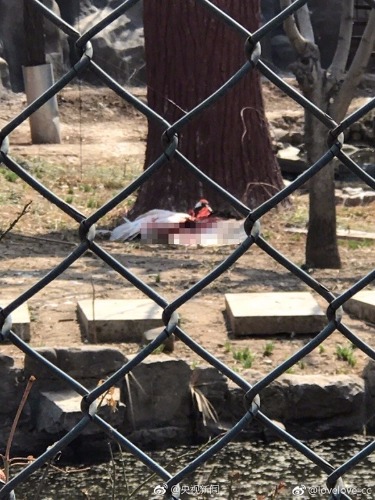 The post stirred a wave of criticism on the social media platform.
"Bayue Nanyin" said: "A breeder must know ways to tame the animals while protecting himself from harm. Otherwise, he is unqualified to be a breeder and to take care of these animals that make money for him."
"Person who likes to go to cinema alone" commented: "There is no animal that is not aggressive…The lives of human and animals are equal…When the life of a human is threatened by an animal, his life is more important. But in this case, does the crane really threaten the life of the breeder?"
The zoo explained to xinhuanet.com that the breeder was cleaning a clogged sewer on the day and the male crane approached him. The zoo said the breeder, in fear of being attacked by the bird, tried to drive him away using the stick.
As the crane was in estrus and aggressive, it jumped up and pecked at the breeder's face. In self-defense, the man "accidentally" hurt the bird. The breeder's face was also injured, the zoo said.
The xinhuanet.com report said the right wing of the crane was fractured and after treatment the bird is now in stable condition.