Vettel holds off Hamilton to win Australian GP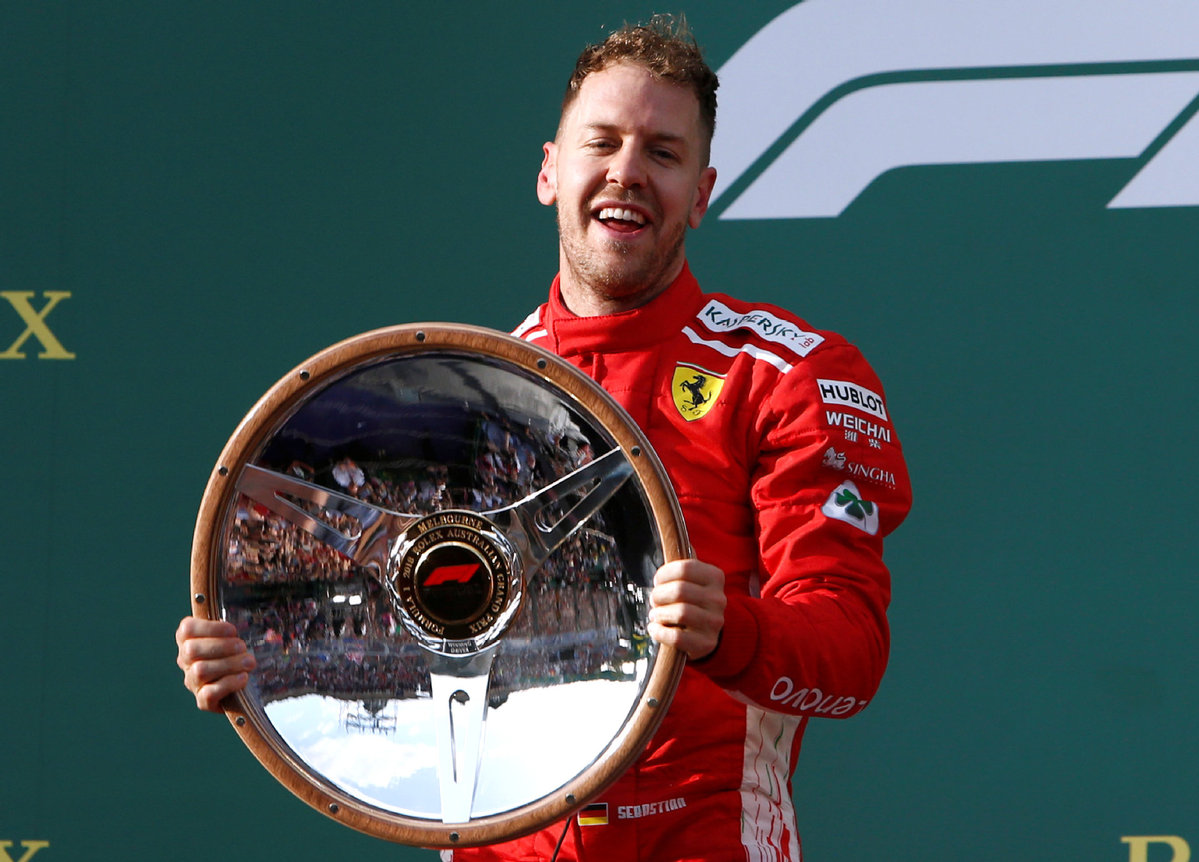 MELBOURNE, Australia — Believing his Ferrari still lacks the race pace to fully challenge Mercedes in Formula One, Sebastian Vettel will take a little luck when he can get it.
On Sunday at the season-opening Australian Grand Prix, his Ferrari team benefitted not only from a smart pit-stop strategy, but also the fortuitous emergence of a safety car midway through the race that helped Vettel take the lead from rival Lewis Hamilton and hold on for victory.
"We got a bit lucky, but we'll take it," Vettel said. "We're not yet there where we want to be. . But I think it gives us a good start, a good wind and fresh motivation for the coming weeks."It was the 48th race win of Vettel's career and his 100th podium finish, coming in his 200th F1 race. The German becomes the fourth driver to claim 100 podium finishes, joining Hamilton, Michael Schumacher and Alain Prost.
Vettel finished the race a full five seconds ahead of Hamilton, who started from pole and had made several late attempts to catch the Ferrari but couldn't manage to pass on the narrow Albert Park circuit.
Ferrari's Kimi Raikkonen finished third, denying Red Bull's Daniel Ricciardo a chance to become the first Australian driver to secure a podium place at the Australian GP.
A resurgent Fernando Alonso of McLaren made a bold run to finish in fifth place, holding off a spirited challenge by Red Bull's Max Verstappen, who recovered after losing control of his car and doing a 360-degree spin early in the race to take sixth.
Hamilton looked comfortable up front for the first 20 laps before deciding to pit, giving up the lead to Vettel. The race then took a dramatic turn when Haas drivers Kevin Magnussen and Romain Grosjean suffered calamitous back-to-back pit stops midway through the race. Both drivers had been running strongly in fourth and fifth places, respectively, but were forced to stop immediately after coming out of pit lane with loose wheels.