Autograph Collection in Sanya marks 1st anniversary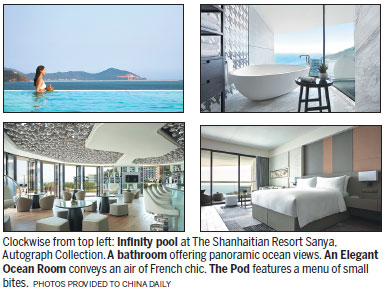 The Shanhaitian Resort Sanya, the first Autograph Collection hotel in China, and the 118th worldwide, celebrated its first anniversary on March 18.
Over the past 12 months, the luxury lifestyle resort has become a fashionable destination in Sanya, Hainan province, and a web-hit hotel attracting guests from around the country as well as elsewhere.
There have been hundreds of recommendations for the resort on Xiaohongshu, the most popular user-generated content app among young Chinese women today, with many users giving it a thumbs-up for being good value for money. One widely shared post described the hotel as "the best value for a five-star experience in Sanya".
Other netizens highlighted the quality of the hotel's facilities and service, with some saying it made them feel so laid back they were "too lazy to leave the hotel during their stay".
Many Trip Advisor reviews have been equally glowing - "an excellent hotel at a great location" that offers a "first-class service".
Located on Hainan Island, which enjoys the reputation of being the "Hawaii of the East", the hotel is close to downtown Sanya but nestled beside the seaside on the beautiful shoreline of Dadonghai Bay.
As China Daily's own reviewer said, "Lying on the hotel's bed in a sea view room, it's easy to feel that the pristine white sand is a pillow and the crystal clear water is a quilt."
Designed by P49 Deesign, a Thai interior design practice, the guest rooms are inspired by high fashion and reference the color palettes of iconic designers, resulting in an eclectic collection of rooms that embody the style of Italian Elegance, French Chic, British Fabulous and American Classic.
The hotel's fun and friendly resort vibe is enhanced by what it describes as a glamorous, fashion-forward aesthetic, something that has appealed to many of its online fans who have commented favorably on its distinctive architecture and the way the hotel is laid out.
The heart and soul of the resort is The Podium on the third level, which comprises a collection of facilities including an infinity pool with unparalleled views of Dadonghai Bay, a state-of-the-art glass-walled gym, the spa, and an open-air dining venue. Younger guests can enjoy leisure playtime at the Kids Club, which is decked in cheerful colors.
State-of-the-art indoor and outdoor venues are also available to accommodate private events of all sizes, from intimate weddings to industry showcases.
The Autograph Collection by Marriott are boutique hotels that it calls "a guide to the extraordinary, a gateway to the unconventional, and a beacon of good taste".
C
`