Industry expert says more R&D needed for high-tech plane parts
Share - WeChat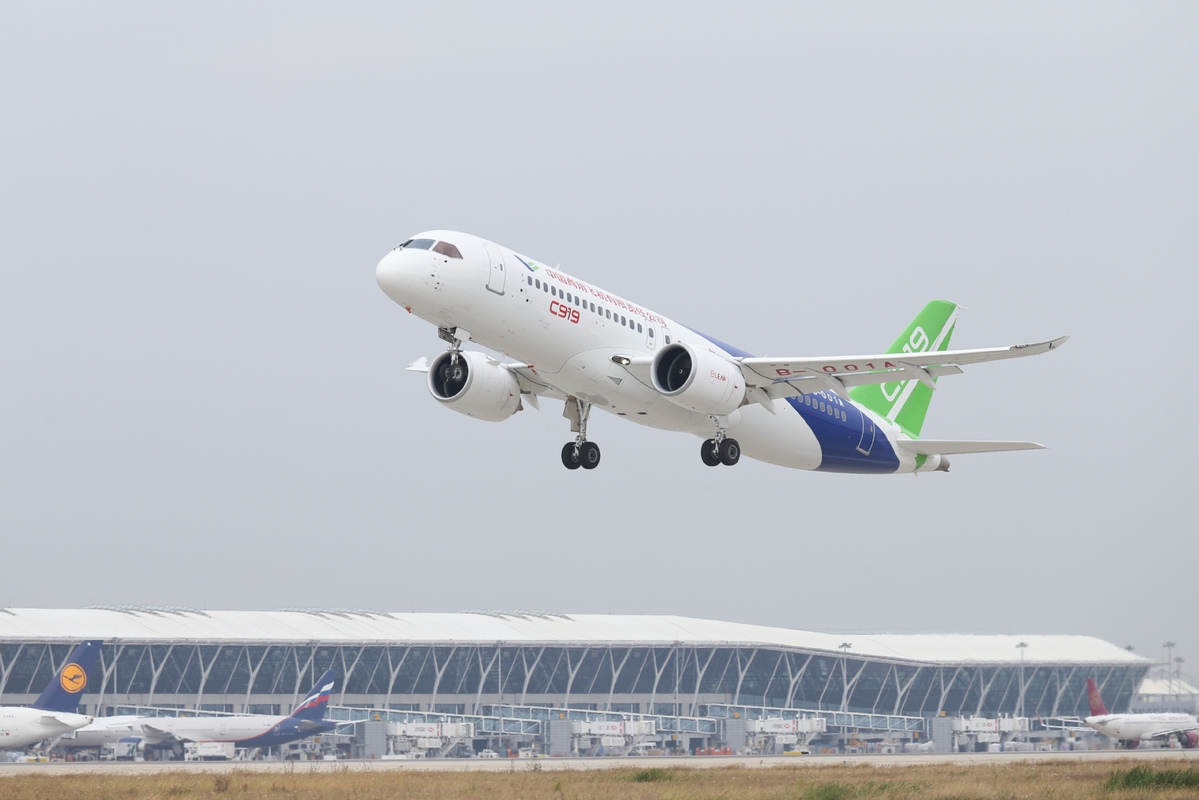 The government should allocate more support to the research and development of advanced aviation materials and techniques to improve the competitiveness and capabilities of domestically manufactured jetliners, an industry insider said.
Wang Wei, a senior technician working on the domestic jetliner program and a national legislator, told China Daily that Chinese engineers used composite materials to make some parts of the airframe for the two C919 passenger aircraft prototypes that are engaged in flight and ground testing in Shanghai.
"Around 12 percent of these prototypes' structures were made with composite materials. It's my understanding that Commercial Aircraft Corp of China plans to use composite materials to build as much as 40 to 50 percent of the airframe of the C919's later variants," he said on the sidelines of the 13th National People's Congress, the country's top legislature, which concluded this week.
Wang's employer, Aerospace Hiwing Special Materials in Zhenjiang, Jiangsu province, under contract from COMAC, used composites to produce the empennage, or tail assembly, of the C919. Most of the composite materials on a C919 are in the empennage, Wang said.
Aircraft generally are made of aluminum alloy, but composite materials and titanium alloy have become increasingly attractive to manufacturers because of their advantages, Wang introduced.
"Compared with traditional metallic materials, composites have lighter weight, better durability and higher resistance against corrosion and heat, thus enabling a plane to travel farther and operate longer," he said. "If we were to use the traditional material-titanium alloy-to produce the empennage, it would increase the weight of the C919 and cost us more."
Considering their advantages, COMAC has decided that its next product-the CR929 widebody, long-range jetliner, a Sino-Russian joint venture-will use composites to construct at least half of its airframe, Wang said.
However, the composites and molding techniques now used by Chinese engineers in the C919 are mainly imported from foreign firms. He said a shortage of professionals in the field hinders COMAC's efforts to build world-class airliners and must be resolved as soon as possible.
"The government should designate a specific fund to institutes or enterprises to support research and development on aviation composites and their molding techniques, such as the automatic tape laying technology," Wang suggested.
Launched in 2008, the C919 narrow-body jetliner project is China's latest attempt to break the Airbus and Boeing duopoly. The aircraft is set to compete with the Airbus A320 and the Boeing 737.
It will be able to carry up to 168 passengers and has a maximum flight range of around 5,500 kilometers.
The airliner's first flight was in May in Shanghai. So far, COMAC has built two C919s to perform flight tests and will soon finish assembly of the third, which is scheduled to make its maiden flight before the end of this year, the company said.
Twenty-eight buyers have placed orders for 815 C919s, and the first deliveries are expected in 2021, COMAC said.