New bank chief considered reformer with steady hand
Share - WeChat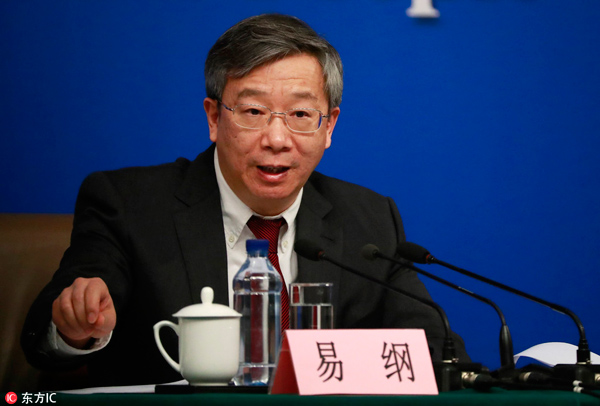 China's overhaul of key government positions, which led to the election of a new central bank governor and finance minister on Monday, sends a message of policy continuity in an effort to push forward reform while preventing financial risks, political observers said.
Yi Gang, 60, the former vice-governor of the central bank, was elected by the country's top legislature to take over the helm at the People's Bank of China, the central bank, from Zhou Xiaochuan, who had been in the job for 15 years.
The new governor, who joined the bank in 1997, pledged to implement prudent monetary policy, make progress on financial reform and opening-up and maintain financial stability. That will be the "most important task", and China's financial sector should remain stable, Yi said after his nomination was endorsed at a meeting of the annual session of the 13th National People's Congress.
"More policies and measures on financial reform and opening-up will be announced at the upcoming forum held in Boao, Hainan province, next month," Yi said.
With a doctorate in economics from the University of Illinois in the United States, and more than 10 years as vice-governor of the central bank, Yi is seen as a reformer who supports market-oriented reform and has helped Zhou to achieve a more flexible exchange rate regime and strengthen the yuan's role in global usage.
"His academic background and his long and varied experience in different positions at both the PBOC and the State Foreign Exchange Administration make him a technocrat, with, in our opinion, the ability to make professional and sound judgments on policy decisions," said Zhao Yang, chief China economist at Nomura Securities.
The major challenge for the new governor in the coming years may be advancing financial reform at a proper pace amid the country's financial deleveraging, experts said. Yi is expected to ward off systemic financial risks and explore ways to better manage shadow banking activities and internet financing, they said.
Yi said at a news conference on March 9 that the country will continue its financial opening-up, including lowering market access thresholds for foreign investors and furthering capital account liberalization, but the move will be taken realistically and cautiously.
Separately on Monday, Liu Kun, director of the budget commission of the Standing Committee of the National People's Congress, was elected as the new finance minister. Liu was vice-governor of Guangdong province from 2010 to 2013 and vice-minister of finance from 2013 to 2016 before joining the NPC in late 2016.
Steven Zhang, chief economist at Morgan Stanley Huaxin Securities, said that the main goal of the government's fiscal policy this year will be offsetting any negative impact of the ongoing financial deleveraging and maintaining stable growth.