2018 Winter Paralympics closes with multiple records,China's 1st gold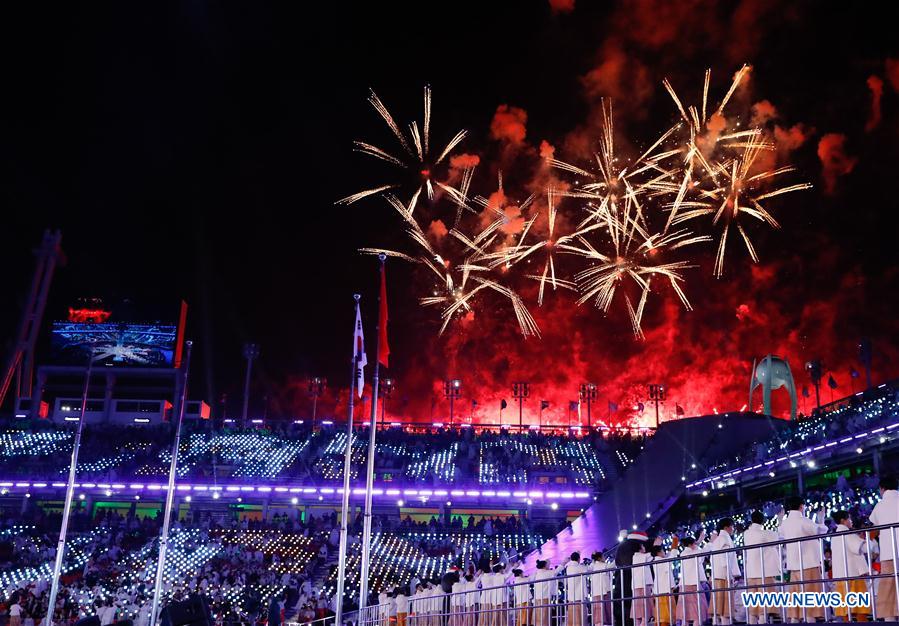 PYEONGCHANG -- The 2018 Paralympic Winter Games wrapped up the 10-day journey of para-athletes with a closing ceremony on Sunday, filled with light show and fireworks, breaking multiple records and marking China's first-ever Winter Paralympic gold medal.
China secured a wheelchair curling gold medal on the penultimate day of the Games, which had lasted from March 9 in Pyeongchang, an East county of the Republic of Korea (ROK).
The Chinese team defeated world champion Norway 6-5 in the nail-biting final match, for its first-ever medal, even a gold, in the history of the Paralympic Winter Games.
With the gold, China finished in the 20th place in the medal table, tying with Kazakhstan which also won its first-ever gold medal in the Winter Paralympics.
China's cross-country skier Zheng Peng came fourth in the men's 15km sitting event, making another Winter Games history by taking the highest individual place ever recorded by any Chinese para-athlete.
Host ROK and Croatia secured their first-ever Winter Games gold medals, ranking 16th and 19th with two bronzes and one bronze added to their medal tallies respectively.
The United States, which sent the largest delegation of 68 athletes, dominated the medal tally with 36 medals in total, including 13 gold, 15 silver and eight bronze medals.
The Neutral Paralympic Athletes (NPA) came second with eight gold, 10 silver and six bronze medals, followed by Canada that took eight gold, four silver and 16 bronze medals.
The NPA refers to Russian para-athletes in Pyeongchang as Russians were banned from competing under their national flag for the alleged state-sponsored doping scandal.
The Pyeongchang Paralympics broke multiple records, bringing a record number of 567 athletes from 49 delegations all around the world, including the Democratic People's Republic of Korea (DPRK) that joined the Winter Games for the first time. Georgia and Tajikistan also made their debuts in Pyeongchang.