Two-way road that led to China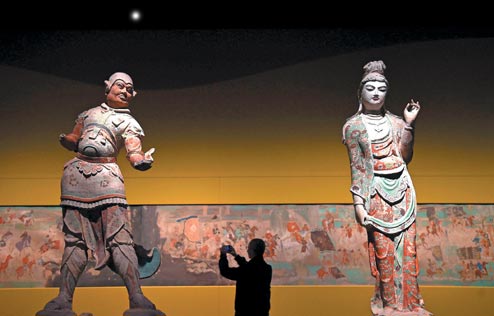 A man wearing a black-rimmed long robe with his hair wrapped in black cloth charges forward on a stallion. While his right hand is placed on the halter, constantly pressing his mount, he raises his left hand, in which he holds a rolled-up document at the end of the broad sleeve.
The document, likely to have been written on bamboo slips, must have contained urgent messages, for the horse is galloping at top speed, its four feet completely off the ground and its bushy tail whipped horizontally backward by the strong wind.
Except that the rider never arrived at his destination, and will never do. Vividly captured in succinct lines on a piece of brick from around 1,800 years ago, the image is believed to have belonged to a courier from ancient China. The place where it was discovered, inside a tomb unearthed in the Jiayu Pass in northwestern China's Gansu province, suggests that the courier was no common messenger, but one shuttling on the famous Silk Road, on which the pass is strategically located.