NGOs innovate to fill healthcare gap
Share - WeChat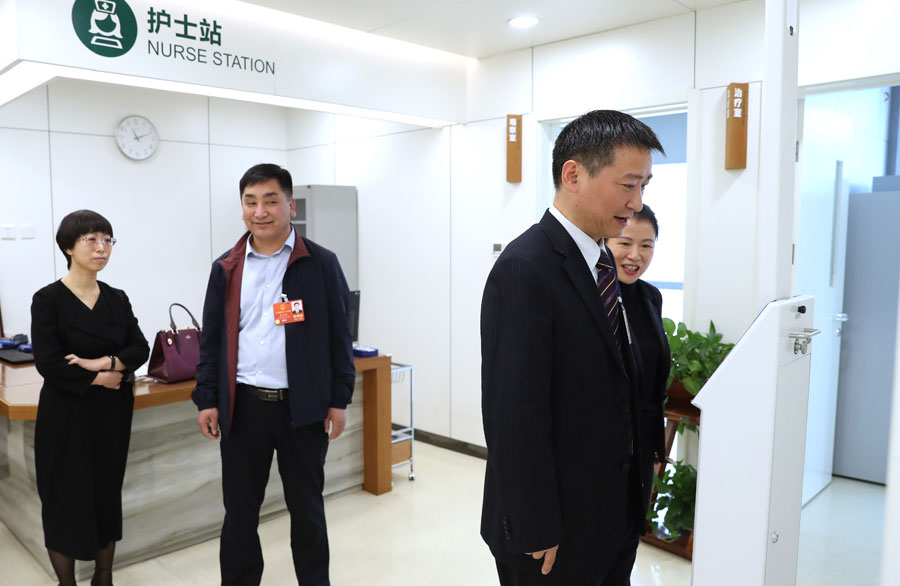 Impoverished rural residents get benefits of more insurance and video consultation, as Li Lei from Beijing and Zhou Huiying from Hailun, Heilongjiang province, report
At Beijing Union Clinic Partner-a private medical service provider funded by a charity foundation-a long-distance consultation was being held on Feb 2. On one side of the video call was Zhu Wenling, a retired chief cardiologist from Beijing Union Medical College Hospital, where thousands of patients from all over the country line up for the medical expertise of China's best doctors.
On the other side was Zhang Gui, a 68-year-old coronary disease patient hospitalized at Hailun People's Hospital in Northeast China's Heilongjiang province.
Zhang lives with his wife on an annual income of 3,000 yuan ($474) earned from selling corn and soybeans grown on his half-hectare of land. Though ill for many years, he had seldom sought medical advice outside of rural clinics because of financial constraints. Since medical reimbursement for the rural poor has been increasing over the past few years, he chose Hailun People's Hospital to finally seek expert advice.
"I didn't expect to consult experts from Beijing," he said. "Now I am more confident about getting well again."
Watching the video consultation was Zhang Yan, a 40-year-old cardiologist at Hailun People's Hospital and a dozen of her younger colleagues, who were listening intently to Zhu's diagnosis and prognosis.
Zhu, 78, who presided over the project's first long-distance consultations in August last year, said Zhang Gui is her 7th patient living under the poverty line.
She described the consultation as a win-win-win arrangement: "Patients can avoid the trouble of traveling a long distance, local doctors improve through consultation and retired doctors have a sense of fulfillment."
Under China's massive poverty reduction plan, nongovernmental organizations have been enlisted to play a key role through various avenues such as education, environmental improvement, business development and quality medical care and treatment.
The State Council issued a circular in November encouraging NGOs to play a bigger role in the national battle against poverty. Chinese Rural Kids Care, a foundation established in 2012 by a group of 46 initiators and seven media organizations under the China Charities Aid Foundation for Children, aims to buy health insurance for every child living in impoverished counties in China, and reimburse medical bills of up to 200,000 yuan.
In July, online commerce giant Alibaba Group rolled out a health insurance program called the Breadwinner Project ("Ding Liang Zhu") in cooperation with Ant Financial Group and the China Foundation for Poverty Alleviation. The program aims to buy health insurance for registered poor people between the ages of 20 and 60-often the breadwinners for their families-and reimburses medical bills of up to 100,000 yuan.
In addition to health insurance programs, the Beijing Union Charity Foundation, a charity based in Beijing that funds Beijing Union Clinic Partner, has been using the internet to channel top medical resources to remote and impoverished regions, hoping to pull rural patients out of dire poverty by giving accurate diagnoses and economical treatment options.
To get free assistance from Beijing doctors, Zhang Yan, the cardiologist at Hailun People's Hospital, said patients must be registered as impoverished and have symptoms that local doctors cannot handle. The doctors in charge can submit the patients' medical history and reserve a video consultation-which could be available within days.
According to Beijing Union Clinic Partner, more than 200 specialists-most of them retired doctors from Beijing Union Medical College Hospital, like Zhu-now work at the clinic and contribute their expertise to the poverty reduction campaign.
More than 300 poor people from rural areas have benefited from the program, and more than 3,000 local doctors have been trained.
Data from the clinic shows that the misdiagnosis rate at grassroots hospitals is around 30 percent; another 20 percent of mistakes are classified as therapeutic errors.
"Due to lack of clinical experience, local doctors usually cannot devise optimal therapeutic plans and thus prolong their patients' conditions. The patients cannot be employed when they are ill, and the long treatment time adds to their financial burden," said Wang Rui, founder of Beijing Union Charity Foundation, the clinic's funder.
Background
Serious diseases have been one of the major causes of financial destitution in China, especially in rural areas, government officials and experts say.
Liu Yongfu, director of the State Council Leading Group Office of Poverty Alleviation and Development, said at a news conference during this year's two sessions that more than 40 percent of China's registered rural poor are impoverished by serious diseases, a percentage that has remained constant since 2014. "Disease is a thorny issue across the globe, including in developed countries," he said.
Gao Yurong, deputy director of the China Philanthropy Research Institute affiliated with Beijing Normal University, added that "one ill member could ruin the entire family".
Qian Chengyu, a senior poverty relief official in Hefeng county, Hubei province, said at a forum that the percentage is even higher in her county.
"From my observation, illness is the major cause of up to 60 percent of the impoverished families' situation," she said.
China has set a goal of building a moderately prosperous society in all respects by 2020, which requires the eradication of extreme poverty. To achieve the target, the central government has been stepping up efforts to increase access by the rural poor to medical resources since 2012, when the Communist Party of China held its 18th National Congress.
In November 2015, China's central leadership issued a document on winning the battle against the poverty by 2020, in which it urged local authorities to make sure impoverished families are covered by basic health services and insurance.
In June the following year, 15 departments including the National Health and Family Planning Commission issued a guideline on poverty relief efforts in the health sector.
The target was that by 2020, the impoverished population in rural China would have access to timely treatment for serious diseases, and with a reduced financial burden. The urban-rural medical gap will be further narrowed and fewer families will be impoverished because of disease by that time, the guideline said.
According to the national health commission, in 2016, the medical insurance reimbursement ratio for patients living under the poverty line reached 67 percent.
Liu Yongfu, who heads the poverty fight, said the ratio has been increasing, and by the end of last year the vast majority of registered rural poor had up to 80 percent of medical expenses reimbursed, a 23 percent increase over the previous year.
Despite the high reimbursement ratio, Wang Rui, founder of Beijing Union Charity Foundation, said much needs to be done to improve the capabilities of doctors at the grassroots level and reduce misdiagnoses and therapeutic errors.