Protectionism out of step with the times
Share - WeChat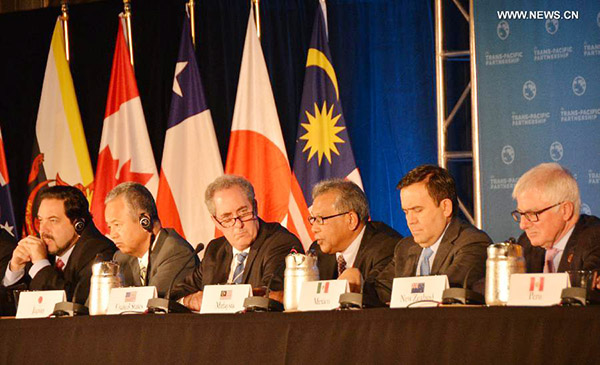 The Comprehensive and Progressive Agreement for Trans-Pacific Partnership, signed by 11 countries on either side of the Pacific Ocean in Santiago, Chile, on March 8, is widely believed to be an antidote to US protectionism. At the least, it is a timely wake-up call to US President Donald Trump that his "America First" policy is not only becoming increasingly unpopular but also making the United States lose benefits rather than increasing them.
The CPTPP agreement, a multilateral free trade deal among the signatories to the original Trans-Pacific Partnership agreement excluding the United States, is one of the largest free trade agreements in the world, and demonstrates the participating countries' commitment to trade liberalization, which may offer a strong bulwark against the rising trend of anti-globalization and protectionism in some countries.
Considering the original TPP deal was initiated and painstakingly pursued by former US president Barack Obama only to be abandoned by Trump when he took office, the decision of the other 11 countries, including US allies Japan, Canada and Australia, to revive it can be interpreted as a sign of the US' waning leadership.
A study by the Peterson Institute for International Economics, a Washington-based independent think tank, estimates the US, instead of gaining $131 billion under the TPP agreement, stands to lose $2 billion under the CPTPP deal. In contrast, each of the 11 CPTPP member countries can expect an average additional growth of about 1 percent in their respective national income by 2030, the study says.
As such, Trump's withdrawal from the TPP agreement runs counter to his stated aim of making "America great again".
Even without the US, the significance of the new trade pact in boosting free trade and multilateralism has been enhanced. The CPTPP, or TPP-11 as it is also known, comprises Australia, Brunei, Canada, Chile, Japan, Malaysia, Mexico, New Zealand, Peru, Singapore and Vietnam. It covers 500 million people on either side of the Pacific and represents nearly 13.5 percent of global gross domestic product.
Given Trump's open dislike for multilateral trade deals, the US has made an abrupt turn from being a champion of free trade. In a January article, The New York Times lamented that the US is lagging behind Europe and countries such as Japan and China in forging ahead with trade deals. Of the 35 new bilateral and regional trade pacts under consideration around the world, the US is party to just one of them, with the European Union-and even negotiations on that one have gone dormant.
To a great extent, Trump's trade protectionism stems from his stated belief that relations among countries are zero-sum games in which there are only winners and losers. This Cold War mentality is outdated; it does not conform to the trend of the times whose defining themes are peace and development. It is also an open defiance of the international efforts and consensus on promoting cooperation.
As the International Monetary Fund has stated, history shows that the myopic pursuit of zero-sum policies ends up hurting all countries. In contrast, experience shows the global economy works far better for all when policymakers engage in dialogue and abide by bilateral and multilateral rules and deals.
As a Chinese saying goes, enjoying happiness alone is not as enjoyable as sharing it with others. It is high time that Trump abandoned his myopic protectionist view, and came to terms with multilateralism and international cooperation.
Otherwise, the irony of the TPP-a trade pact originally conceived by the US to counter China's growing economic might in Asia, which is now being counted on to counter US protectionism-could be repeated elsewhere in the future.
The author is a senior writer with China Daily. wanghui@chinadaily.com.cn
Most Viewed in 24 Hours
China Views