Rockets aim to keep momentum
HOUSTON - After the Houston Rockets easily downed the San Antonio Spurs, James Harden was asked about his team taking care of business against a team missing its top players.
The Houston captain was quick to point out that despite already clinching a playoff berth, his team has many more goals ahead.
"We don't have the luxury of just taking nights off," he said. "We're not where we want to be. We're not that good yet, so we have to go out there and approach every single game, no matter who we're playing, like it's a playoff game. We're 15 games away, so it's time to take it serious."
Harden scored 16 of his 28 points in the third quarter to allow the Rockets to build a huge lead and sail to a 109-93 victory on Monday night.
The NBA's leading scorer took a little while to get going a night after sitting out against Dallas with a sore left knee and had just 12 points at halftime.
Despite his slow start, the Rockets had a comfortable lead in the third and were still up by 13 after a basket by San Antonio's Dejounte Murray with about eight minutes left in the quarter.
It was then that Harden took over, scoring the next eight points to start a 16-4 run that extended the lead to 82-57 late in the third and had coach Gregg Popovich calling for a timeout.
Harden had a 3-pointer and made three free throws after being fouled on a 3-point attempt to propel that spurt.
He didn't return in the fourth quarter with the game in hand.
"We've played I don't know how many games in about eight days or 10 days, but it's a lot of games it seems like," coach Mike D'Antoni said. "And to have the legs to be able to do what they're doing and put the game away is pretty good."
The Spurs, who were without leading scorer LaMarcus Aldridge, got 14 points each from Bryn Forbes and Derrick White. San Antonio lost for the fifth time in six games.
"Everybody tries to be the best they can be by playoff time and that will be our goal, too," Popovich said.
"We want to be in the playoffs and to be as good as we can possibly be no matter what the circumstances are."
San Antonio scored four quick points in the fourth quarter to get within 15. But Houston responded with the next eight points, with the last five from Chris Paul, to make it 99-76 and end Paul's night midway through the final quarter.
Paul, who finished with 18 points and nine assists, wowed the crowd in that stretch, crossing over Forbes before sinking a basket and then knocking down a 3-pointer on Houston's next trip down the court.
Houston improved to 3-0 against the Spurs this season with one game left in the series.
It's just the second time since the 1997-98 season that the Rockets have won the season series against San Antonio after going 4-0 against the Spurs in 2013-14.
Associated Press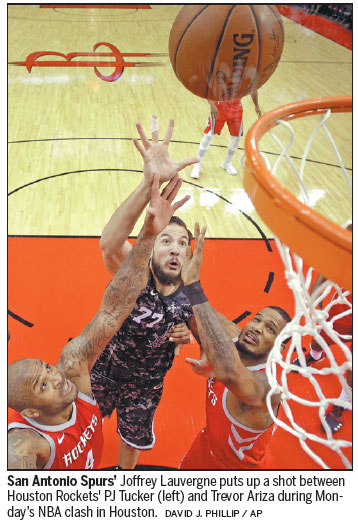 Today's Top News
Editor's picks
Most Viewed