Is changing jobs often the way to go?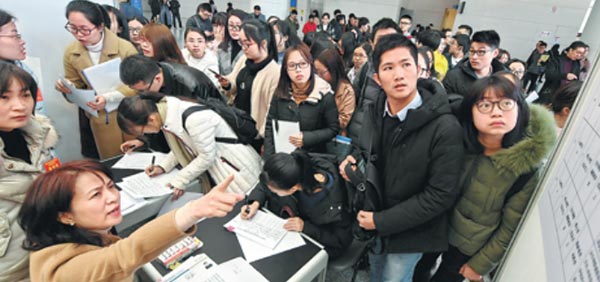 According to a report jointly released by Peking University, Tsinghua University and China Youth University of Political Studies in 2016, 57 percent of fresh university graduates changed jobs more than twice within the first three years of working, while 32 percent of the students changed jobs even more frequently.
Separately, Xue Shijun, a media commentator from the Guangzhou Daily, says that older people find it difficult to understand how young people quit jobs so easily.
And, a private business owner says he is puzzled when he sees people resign without having another job offer, a report from the China Youth Daily says.
But, many in society now accept job-hopping by the younger generation, as they seek to follow their passions.
Some say that trying out different jobs is a good way to find one's real interest and career, and also saves people from wasting time on things they are not interested in.
Having more experience also often helps people to decide whether the position they currently hold is the right one. But others say that changing jobs frequently is not conducive to the development of qualities such as patience and adaptability.
And, young people could get used to giving up when confronted with difficulties.
Also, to many employers, frequent job-hopping reflects a lack of loyalty.
So, is job-hopping really the way to go?
YES
Young people can only learn social skills in the real world.
1. For certain jobs, bank tellers for instance, ATM machines, born from technological development, have replaced manual work. So, hopping from job to job can help broaden a person's professional skills, and save people from being made redundant.
2. There is no perfect job, only the one that's nearly ideal. The experience people gain from changing jobs allows them to understand what they really want.
3. With increasing mobility, locations are no longer hurdles in the way of choosing a job. Choosing to work in a certain place is also a lifestyle choice. In the post-90s era, those who change jobs are also evaluating the lifestyle that comes with a specific job.
NO
The economic and social conditions are different now.
1. Quitting a job on impulse as soon as you feel defeated or unsatisfied may have a negative effect on the development of qualities such as patience and adaptability. Besides, there could be success waiting just behind the failure.
2. Taking several jobs in a short span of time may imply the job seekers' lack of loyalty to employers, and that may make a potential employer wary and hesitant to hire the person.
3. Running through different jobs, or even different industries, within a very short time may help one gather superficial knowledge from many areas, but the limited experience may not be deep enough. As a result, such a small database of experience might not be sufficient to allow a person to take on bigger responsibilities.