Xinjiang reported free of terror attacks last year
Share - WeChat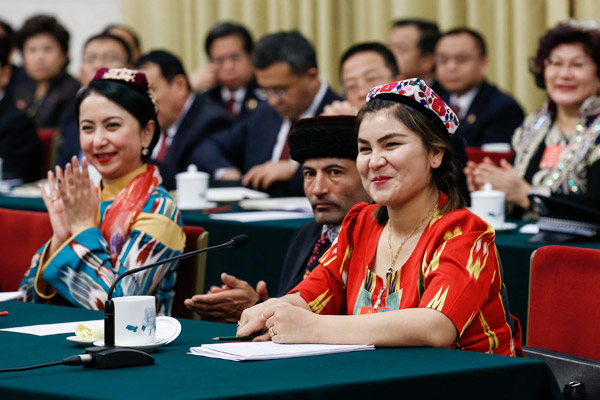 There were no terrorist attacks in the Xinjiang Uygur autonomous region last year, the region's chairman said on Tuesday as he discussed the regional government's determination to keep the social situation calm.
"Xinjiang will continue to enforce the comprehensive anti-terrorism measures to keep the region stable," said Shohrat Zakir, chairman of Xinjiang. He spoke during a plenary session of the Xinjiang delegation to the first session of the 13th National People's Congress, the top legislature.
A series of new anti-terrorism measures have been introduced since Chen Quanguo was appointed as Party secretary of Xinjiang in August 2016.
They included setting up a network of police stations in all cities and townships to quickly react to any emergencies.
Significant results have been achieved in maintaining social stability in Xinjiang, which has always been the front line of China's battle against terrorism, Chen said earlier in the annual NPC session.
"Fighting separatism and terrorism is our utmost priority. We will continue to strike hard against such activities and win a people's war in border control," Zhu Hailun, secretary of the Xinjiang regional Political and Law Commission, said during the session, which was open to media.
Zhu said while Xinjiang's social situation has been stabilized, it is still in a phase in which terrorist activities are active. He warned that the fight against separatism and terrorism is a long-term one.
Maintaining social stability and long-term peace is the goal of Xinjiang, Zhu said. Having a safe and stable environment is the foundation for regional social development, he added.
"Due to the complicated international situation, Xinjiang needs to continue to strengthen its anti-terrorism efforts. There is no room for slacking off," Zhu said.
China will take strict preventive measures against terrorist activities this year and see them firmly stamped out, Premier Li Keqiang said in this year's Government Work Report.
Xinjiang will step up security measures in key areas and border areas as well as enforce internet management to maintain social stability this year. It will further rely on technology to enhance front-line border control and improve infrastructure in border areas, such as improving road conditions, Shohrat said in January.