US farmers push back on Trump's tariffs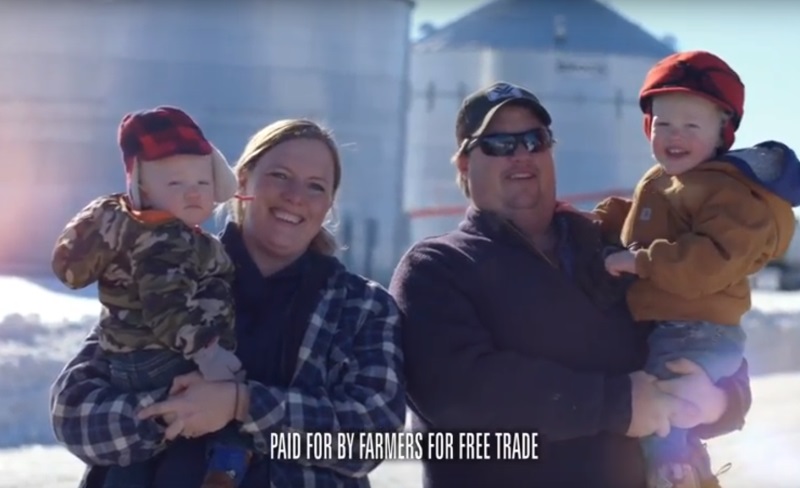 US farmers have launched a fresh campaign to push back President Donald Trump's upcoming tariffs on steel and aluminum imports, fearing foreign retaliation would seriously hurt their export-dependent industry.
Farmers for Free Trade, a non-profit campaign, released a TV ad on Tuesday calling on Trump to protect the trade policies US farmers depend on.
In the ad, Michelle Erickson-Jones, a fourth-generation farmer and rancher from Broadview, Montana, and president of the Montana Grain Growers Association, voices her concerns about Trump's trade policy.
"We depend on free trade policies to maintain our export markets," she says in the 30-second ad that will be aired for at least the next four weeks on cable news networks such as Fox, CNN and MSNBC, as well as online and on rural agricultural programs across the country.
"The crops that we grow here on this farm are exported across the globe. Policies that restrict trade would be devastating for farms like ours. Someday I'd like to pass the farm down to my boys. Mr. President, protect free trade and keep our agriculture economy strong," said Erickson-Jones, standing next to her husband, each holding one of their two young boys in their arms.
The ad kicks off Farmers for Free Trade's "Voice of the Farmer" campaign. The campaign has already posted a number of videos on its website featuring farmers from various states calling for free trade.
Former Montana Senator Max Baucus, who was US ambassador to China from 2014 to 2017, and former Indiana Senator Richard Lugar were co-chairs of the campaign.
"Farmers are increasingly worried about what they are seeing from Washington DC on trade," Baucus was quoted as saying in a press release by the campaign.
"When the US engages in a tit-for-tat fight with our trading partners, farmers pay the price. While we need tough trade enforcement, we need to be smart about avoiding global trade fights that hurt American agriculture," he said.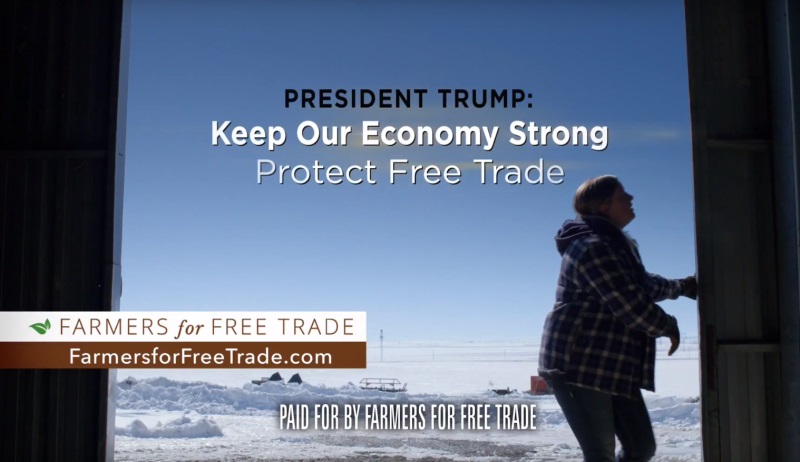 Lugar said, "American farmers and ranchers depend on policies that open markets and are hurt by policies that throw up barriers to trade."
"Escalating trade tensions will invite retaliation targeted at our farmers and will raise the price of ag equipment and inputs. We are working to ensure that American farmers are making their voices heard so that we avoid a trade war," he said.
Trump first announced on March 1 and then signed proclamations last Thursday for a 25 percent tariff on steel imports and 10 percent tariff on aluminum imports under Section 232 of the US Trade Expansion Act of 1962, raising concerns both at home and abroad about a possible trade war or tit-for-tat between the US and its trading partners.
Many analysts believe that US agricultural exports could be the targets in case China, the European Union and other key US trade partners choose to retaliate against the unilateral steel and aluminum tariffs.
The Chinese mainland trailed Canada in 2017 as the second-largest export market for US agricultural goods. China bought $19.6 billion in US farm goods in 2017, accounting for 14.2 percent of US agricultural exports.
The Chinese mainland is also Montana's second-largest export market after neighboring Canada. Montana's goods exports to China jumped 554 percent from 2006 to 2016 to $223 million, compared with only 50-percent growth to the rest of the world. Its services exports to China hiked 548 percent during the period to $91 million in 2016, compared with only 81 percent to the rest of the world, according to the US-China Business Council.
Oilseeds and grains, valued at $110 million, were the largest items Montana exported to China in 2016.
Last November, JD.com, China's second-largest online retailer, signed a deal in Beijing with Montana Stockgrowers Association to buy $200 million worth of Montana beef. In addition, JD.com inked a memorandum of understanding to invest another $100 million in a new slaughterhouse facility in Montana.
Erickson-Jones, who was featured in the latest ad, was present promoting Montana farm products at a China-US agricultural forum at the Morgan Ranch in Belgrade, Montana, on Sept 8, 2017, attended by representatives from the Montana farm industry, the Chinese embassy and businesses. Montana Senator Steve Daines and Chinese Ambassador to the US Cui Tiankai led the discussions to explore opportunities for bilateral agricultural cooperation.
Contact the writer at chenweihua@chinadailyusa.com.