Tillerson out, Pompeo to be new secretary of state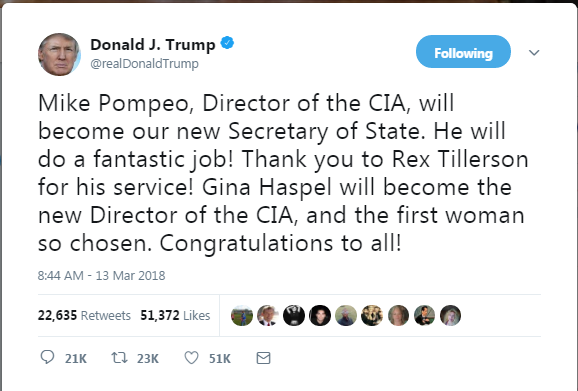 US President Donald Trump has fired Secretary of State Rex Tillerson, and is replacing him with CIA Director Mike Pompeo.
"Mike Pompeo, Director of the CIA, will become our new Secretary of State. He will do a fantastic job!" Trump tweeted early on Tuesday. "Thank you to Rex Tillerson for his service! Gina Haspel will become the new Director of the CIA, and the first woman so chosen. Congratulations to all!"
Steve Goldstein, a spokesman for Tillerson, said in a statement on Tuesday that Tillerson did not speak directly to Trump and ``is unaware of the reason'' he is being replaced. "The secretary had every intention of staying because of the critical progress made in national security,'' he said in the statement.
The resignation of the 65-year-old former CEO of Exxon Mobil is the biggest shakeup of the Trump Cabinet so far.
A senior White House official said Trump wanted Tillerson to step down so he could have a new team in place before upcoming talks with Pyongyang, Politico reported on Tuesday.
Last week, Trump agreed to meet face-to-face with the Democratic People's Republic of Korea leader Kim Jong-un by May, in what could be the biggest breakthrough in the tense relationship with Pyongyang.
Trump's tweet followed a Washington Post report on Tuesday that the president had asked Tillerson to step aside last Friday, and the embattled diplomat cut short a trip to Africa on Monday to return to Washington.
Tension between Trump and Tillerson has simmered for many months, but the president and his top diplomat reached a breaking point over the past week, officials said, the Post reported on Tuesday. It said the reason for the latest rift was unclear.
Trump publicly undercut Tillerson's diplomatic initiatives numerous times, including on Monday when the former secretary of state's comments about Russia appeared to be at odds with those of the White House.
Tillerson also appeared out of the loop last week when Trump announced he would meet with North Korea's leader and become the first sitting US president to do so.
On Oct 4, NBC News reported that Tillerson called Trump "a moron" during a meeting with top officials over the summer. Tillerson did not dispute whether he called Trump "a moron". But State Department spokeswoman Heather Nauert said that "the secretary does not use that type of language."
Attacking the reporting as "phony," Trump later said he appreciated Tillerson's comments and that he had "total confidence in Rex."
But less than a week later, he suggested in a Forbes magazine interview that if the story were true, he should "compare IQ tests" with Tillerson. "And I can tell you who is going to win," he added.