Meet 89-year-old Shen, China's longest-serving lawmaker
Share - WeChat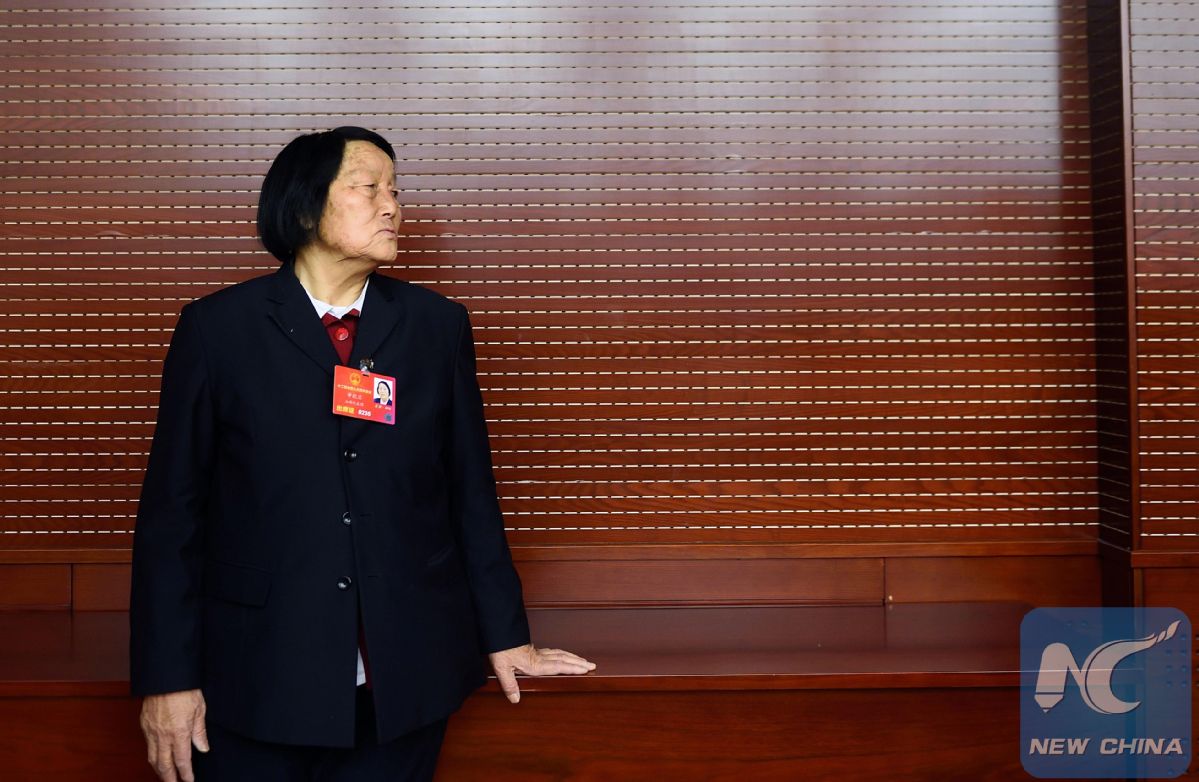 BEIJING - She has been a farmer for her whole life. She is also a lifetime national lawmaker.
Shen Jilan stands out among nearly 3,000 National People's Congress (NPC) deputies as the only one to serve at all previous 12 NPCs since 1954. She started out at 25 and turns 89 this December.
According to China's Electoral Law, all citizens aged 18 or above are eligible to be NPC deputies. There are no upper limits. Shen has been elected to the congress 13 times in a row.
She believes herself lucky as she lives long enough to witness China's marching towards a moderately prosperous society by 2020. Most people of her generation are not so fortunate.
Shen is from a remote village in the mountains of Taihang, a revolutionary base of the Communist Party of China (CPC) in North China's Shanxi province.
It was she who proposed the clause on "equal pay for equal work" between men and women, which was written into the first Constitution of the People's Republic of China (PRC) in 1954.
The ongoing first session of the 13th NPC on Sunday adopted a constitutional amendment, the fifth revision since the current Constitution was formulated in 1982. The latest amendment incorporates major theoretical achievements, principles and policies adopted at the 19th CPC National Congress, particularly Xi Jinping Thought on Socialism with Chinese Characteristics for a New Era.
"The revision, a huge state affair to adapt the fundamental law for the new era, has come through the demands of development and the people," Shen told Xinhua.
During an NPC session, deputies submit proposals and suggestions as well as review and vote on legal documents and personnel changes.
ROLE MODEL FOR WOMEN'S LIBERATION
Shen married a soldier from the village of Xigou, Pingshun county, when she was 17 years old.
It was a time when many women still had "lotus feet," the former custom of foot binding. Her mother-in-law kept telling her to stay at home. Only men worked on the land.
"Being confined to the house yard was killing me," she recalled.
In the village with mostly barren land, villagers struggled to survive. In 1951, two years after founding of the PRC, the village formed a cooperative to expand farming to make ends meet. Li Shunda, head of the co-op, turned to women for farming.
Shen was appointed deputy head of the cooperative and managed to mobilize women through door-to-door visits and persuasion, only to find they would not get the same pay as men.
"Men got 10 work points a day, but we only got a maximum of five points no matter how much work we did."
The work point was a labor pay system during China's planned economy, in which grain and other materials were allocated to farmers based on the work points they earned on the collective land.
To prove that women and men should be equally treated, Shen organized a manuring contest. Women won as many men paused to smoke. As a result, Shen and other women won equal pay.
Shen gained national fame in 1953 due to media coverage of the village co-op. As a role model for women's liberation, Shen attended the World Congress of Women in Copenhagen the same year. It was the first and only time that Shen wore a qipao, a traditional one-piece dress that is usually high-collared and a tight fit.
"The slim dress held back my steps. It is not suitable for farmers like me," she recalls. "But I was told to wear it as courtesy because we represented China."
Elected as a deputy to NPC, she attended the first session of the First NPC in 1954. It was during the session that the first Constitution was passed, legitimizing "equal pay for equal work" as she had proposed.
Among the 1,226 deputies, 147 were women, accounting for less than 12 percent. The percentage has doubled this year, with 742 women in the lineup of the 13th NPC.
NEW IDENTITIES
After serving as the head of the provincial women's federation for 10 years, Shen returned to the village in 1983.
"I was nobody but a farmer. My fellow villagers needed me," she recalled.
While China, under the reform and opening-up drive since 1978, was in transition from the planned economy to a market economy, Shen grew a new identity as an entrepreneur, enabling her to keep voters' trust.
She opened a collectively-owned ferroalloy plant with bank loan, the first enterprise in her village, in 1985. A walnut oil factory and a cannery were later built.
Villagers' efforts in farming and forestation led by Shen and other cadres have transformed Xigou into a tourist attraction with more than 1,300 hectares of trees.
Shen now volunteers to receive tourists, telling stories of the CPC revolution in the Taihang mountains as well as her own remarkable tale. She also keeps on farming, which she says keeps her healthy.
"The countryside develops slower than the cities, but progress never stops," said Shen, adding she is confident that her county will be free of poverty by 2020.
In 2008, she was selected as a carrier in the Beijing Olympics torch relay at the age of 79. "I got up at 5:30 am every day for exercise and imitated the relaying pose from television," she recalled.
Over the past 60-plus years as an NPC deputy, Shen has been in the best position to witness the profound changes in China.
"I rode a donkey, then a truck and then a train to arrive in Beijing for the 1954 meeting, spending four days. But today, it only took three hours by high-speed train," she says.
Shen has rendered hundreds of proposals and suggestions to the NPC in topics like rural development, education and anti-corruption.
Not all her comments are appreciated. In 2013, her support for stringent internet regulation drew wide controversy.
"Maybe I'm too old to follow the trends among the young, but that's the charm of our NPC system, having multiple voices heard," she says, adding that she watches TV news every day to keep up.
Her suggestions this year are about poverty alleviation, including rural roads and tailored measures to help lift people out of poverty.
She is delighted to see new, young faces among deputies, evoking her memories of attending her first NPC session over six decades ago.
"Deputies are elected by the people and should speak for them," she says.