Japan pauses to mark 7th anniversary of tsunami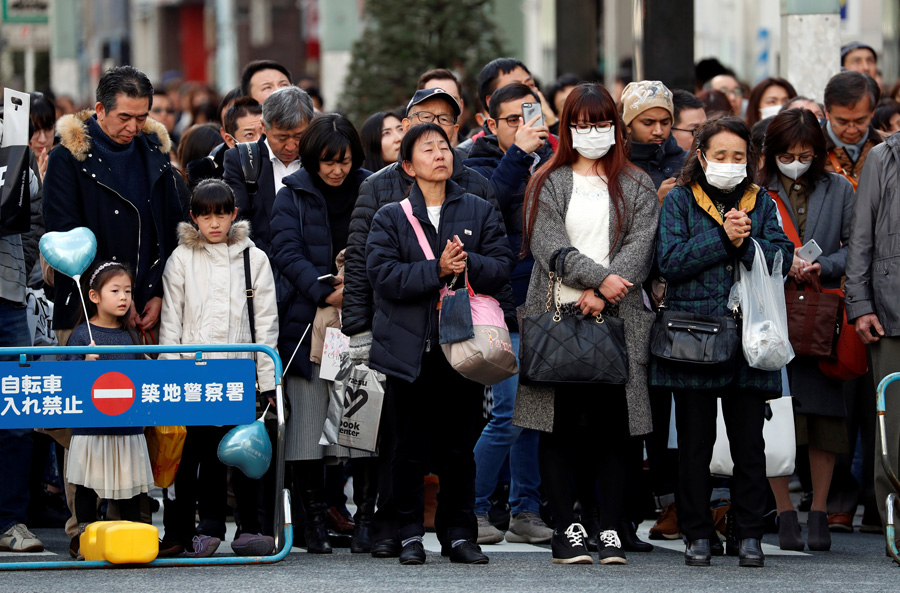 Memorials held as more than 70,000 people still displaced
RIKUZENTAKATA - They bowed their heads, hands clasped or palms firmly pressed together. They stood in grassy areas or roadsides overlooking the choppy sea. In Japan's capital, they lit candles and offered flowers. Some dabbed at tears.
Japanese marked the seventh anniversary on Sunday of a tsunami that took more than 18,000 lives on the northeast coast and triggered a nuclear disaster that turned nearby communities into ghost towns.
Residents along the coast gathered outdoors to remember the tragedy as sirens wailed at 2:46 pm, the moment the magnitude-9.0 offshore earthquake that set off the tsunami struck on March 11, 2011.
The tsunami overwhelmed sea walls and washed away buildings, cars and entire neighborhoods as it swept inland. It knocked out power at the seaside Fukushima Dai-ichi nuclear power plant, causing partial meltdowns in three reactors.
Prime Minister Shinzo Abe said at an official ceremony in Tokyo that reconstruction is making steady progress, but more than 70,000 people are still displaced and many have no prospect of returning to their homes.
Seven years on, residents along Japan's northeast coast have rebuilt their lives alongside huge sea walls that experts say will protect them if another giant tsunami, which some see as inevitable in a seismically active nation like Japan, was to strike.
Since the disaster, some towns have forbidden construction in flat areas nearest the coast and have relocated residents to higher land. Others, such as Rikuzentakata, have raised the level of their land by several meters before constructing new buildings.
A common thread, though, is the construction of sea walls to replace breakwaters that were overwhelmed by the tsunami. Some 395 km of walls have been built at a cost of 1.35 trillion yen ($12.74 billion).
"The sea walls will halt tsunamis and prevent them from inundating the land," said Hiroyasu Kawai, researcher at the Port and Airport Research Institute in Yokosuka, near Tokyo.