Kenya stability good for region security, say experts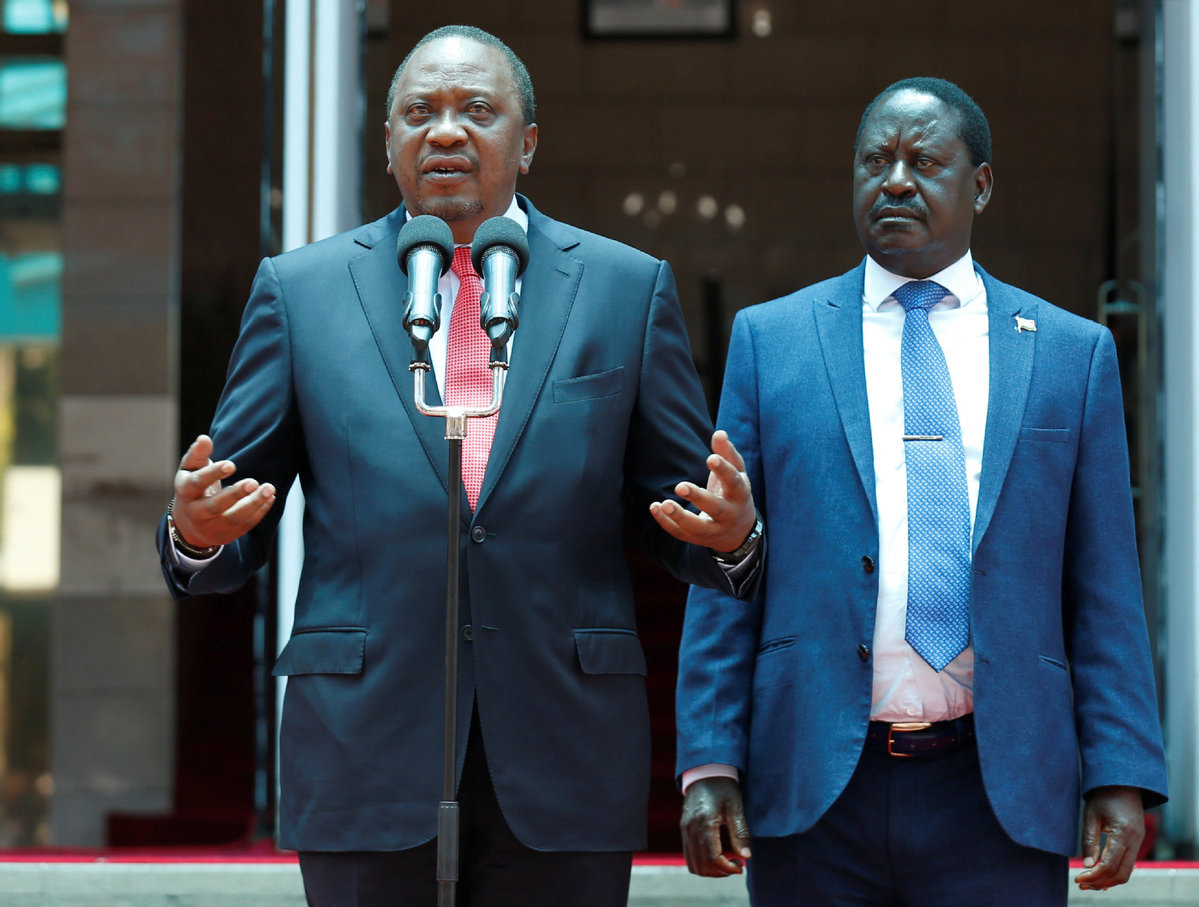 The move by Kenya's President Uhuru Kenyatta and opposition leader Raila Odinga to bury the hatchet and work together toward national reconciliation has been welcomed by experts who believe it is good for regional stability.
The two announced the move on Friday after a short meeting that saw them commit to begin the reconciliation process. They agreed to institute reforms and fight corruption.
It was their first meeting since a fallout following August general election and the subsequent October repeat presidential poll that Odinga boycotted. Uhuru was sworn in as president in November while Odinga held a mock swearing-in ceremony in January.
"We have to be cognizant that any instability in Kenya reverberates regionally," said David Kikaya, a former ambassador. "Besides Kenya being the regional hub for trade and finance, the country is a beacon of stability in a region mired by conflict and has been driving peace in epicenters such as Somalia and South Sudan. It was therefore crucial for the two leaders to reach an agreement," he said.
"Moreover, as the biggest economy in the region, Kenya plays a key role in regional economic growth. Investors want certainty that their products will be delivered safely and on time," said Kikaya who now heads a Kenya-based think tank, Research Institute of Peace, Policy and International Affairs.
He said the two leaders should avoid isolating themselves if they aim at building national consensus. "All other political party leaders need to be looped in to ensure that no one feels disenfranchised."
Kioko Ireri, an associate professor of journalism and mass communication at United States International University-Africa, said the two are paramount to the development of the country and the prolonged tension had had serious implications both socially and economically. "The move would most likely restore foreign investor's confidence into the country," he said. "We cannot however predict how things will unfold in the near future but I believe investors were eager to see a more stable country," said the scholar.
The announcement coincided with the visit by the United States Secretary of State Rex Tillerson, who jetted into the country soon afterward and commended the new developments.
Despite believing that this may have played some part in urging the leaders toward dialogue, Ireri said contractors from the country may start angling for a bigger piece of the construction sector pie.
Commenting on Tillerson's and Russian Foreign Minister Sergey Lavrov's ongoing visits in Africa, Kikaya said that Africa remains a priority area for these countries because of trade, resources and markets.
"In addition, together with China, Russia has been keen on reforming the United Nations Security Council. Africa plays a critical role in this," he said, forecasting that the continent will soon host leaders from central Europe.
According to Martin Nguru, a lecturer at the University of Nairobi School of Diplomacy and International relations, the commitment by the two leaders to fight corruption will enable investors get better returns.
Edith Mutethya contributed to this story.