Science ship construction set to begin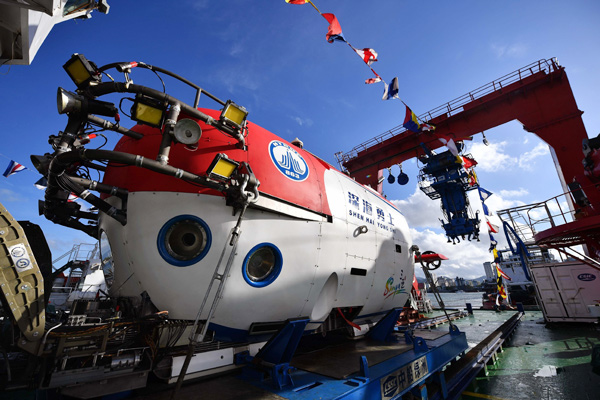 Primary mission will be to survey oceans, atmosphere, ecosystems
A major shipbuilder has unveiled plans to start the construction of China's biggest research vessel this year, with the project expected to take about two years to complete.
Work on assembling the ship will begin at Shanghai's Jiangnan Shipyard using a design from the Marine Design and Research Institute of China, Hu Keyi, the shipyard's technical director, said this week.
Both the shipyard and the institute are part of China State Shipbuilding Corp, a State-owned enterprise.
With a displacement of 6,800 metric tons, it will be the country's largest research vessel, said Hu, who noted that it will use an advanced podded propulsion system, giving it better mobility.
Upon completion, the ship will be loaded with modern scientific devices and high-performance computer servers, and will be capable of conducting surveys of water, the atmosphere, ecosystems and natural resources, he said.
The project was commissioned by Sun Yat-sen University in Guangzhou, Guangdong province, to be used in scientific expeditions and student training exercises.
Hu made the remarks on the sidelines of the ongoing session of the 13th National Committee of the Chinese People's Political Consultative Conference. He is a member of the top political advisory body.
Wu Gang, the research ship's chief designer, said it will accommodate a great number of scientific instruments, including remotely operated submersible vehicles. The ship features a streamlined structural design, integration and compatibility of scientific apparatus, and fast information processing.
He added that the ship will be able to operate in rough seas and will consume less fuel than other ships of the same size.
Ma Jun, vice-president of Sun Yat-sen University, was quoted earlier by Nanfang Daily as saying that the ship will have room for 120 crew members and researchers and be capable of extended missions of up to 60 days.
The vessel will help the university explore biological and mineral resources, geological conditions and other aspects of the South China Sea, he said.
Jiangnan Shipyard is currently building the Dongfanghong 3, a 5,000-ton research and training ship for Ocean University of China in Qingdao, Shandong province. It will be the college's fourth research ship.
China operates more than 50 research vessels, most of which are managed by the State Oceanic Administration.