Caterpillar's tractors helping power Belt and Road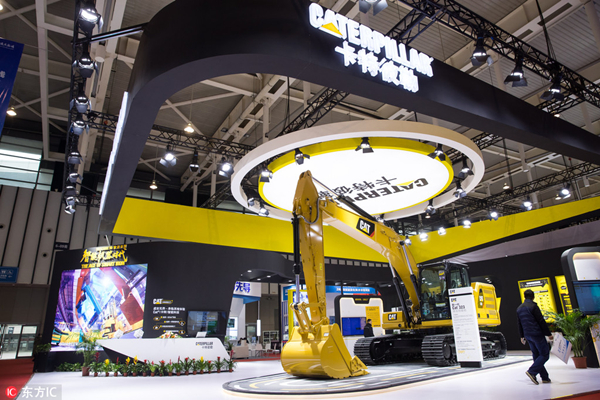 With the air filled with talk of tariffs, one major US company is literally plowing ahead with its business in China.
Caterpillar, the heavy-machinery giant, expects 2018 to be a year of strong sales growth in China, bolstered by business from the Belt and Road Initiative.
Caterpillar's sales in the Asia-Pacific region rose 22 percent year on year in the fourth quarter of 2017. Half of the increase came from China, thanks to increased construction and infrastructure investment.
"We expect another strong year in China in 2018," CEO Jim Umpleby told Xinhua in a recent interview.
The Belt and Road Initiative, proposed by President Xi Jinping in 2013, aims to build a trade and infrastructure network connecting Asia with Europe and Africa along and beyond the ancient Silk Road trade routes. It comprises the Silk Road Economic Belt and the 21st Century Maritime Silk Road.
Peoria, Illinois-based Caterpillar has been involved in BRI projects in 20 countries.
Umpleby said that with 10,000 employees at some 20 manufacturing facilities in China, Caterpillar views the country as "an important and strategic location". The company also has R&D centers, logistics centers and a financial leasing service in the country.
"We're very well positioned to participate in the Belt and Road Initiative," Umpleby said.
The big CAT is also teaming up with Chinese companies.
"With our significant manufacturing footprint in China, a global dealer network and a financial service network to support our customers along the Belt and Road routes, we are working with Chinese SOEs (state-owned enterprises) in 20 countries on projects ranging from roads, ports, mines and oil fields," Umpleby said in September.
Caterpillar said on its website in June that the BRI is "remaking global trade and nurturing geopolitical ties".
"As part of Caterpillar's Belt & Road initiative, our team in China is collaborating with dealers to help support a cross-divisional project that focuses on developing our sales and marketing capabilities in order to be best positioned for this opportunity," the company said.
"Belt and Road is becoming a very important driver for Caterpillar's development," Chen Qihua, head of Caterpillar China, told Reuters.
Analysts say CAT's Asia-Pacific sales figures reflect demand for machines headed to BRI projects, as contractors buy most of their equipment in China to take advantage of the initiative's tax rebates.
Most of the equipment sent is manufactured in China, Chen said.
Caterpillar also is deploying its finance arm to boost BRI sales. The unit has begun lending to Chinese companies, including state-owned enterprises.
"As government funding for the BRI projects improves, this is expected to result in higher demand throughout the industry," said Jeff Hardee, director of Asia-Pacific government and corporate affairs at Caterpillar.
Although the BRI seems to be booming, it doesn't sit well with everybody. Some nations see it as China making a move for global hegemony.
US Secretary of Defense Jim Mattis said in October that "no one nation should put itself into a position of dictating 'One Belt, One Road'".
For now, it appears that Caterpillar will continue to sell its products for China's massive BRI and let the politics sort themselves out.
Reuters and Xinhua contributed to this story.
Contact the writer at williamhennelly@chinadailyusa.com