Domestic helicopter firms seek support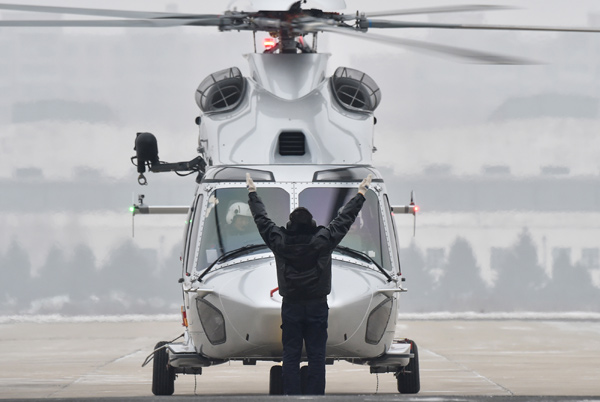 The Chinese government urgently needs to establish a coordination and communication mechanism between the helicopter industry and other sectors to protect the growth of the domestic helicopter industry, an expert said.
China needs to realize the irreplaceable function of helicopters, said Wu Ximing, deputy director of the science and technology committee at the Aviation Industry Corporation of China and chief designer of Avicopter Co Ltd.
"The domestic helicopter sector is relatively small, and if there are no protections, foreign investments will pour in and the domestic helicopter industry will struggle to survive and grow," Wu, a member of the 13th National Committee of the Chinese People's Political Consultative Conference, said on the sidelines of the ongoing two sessions.
Currently, China has about 400 civil helicopters, and those made domestically account for about 10 percent of the civil helicopter market. In the next 10 years, the total number of civil helicopters in the country is expected to increase to more than 4,000.
"Most foreign-made helicopters are designed for low-altitude flying, and none of them are specifically suitable for China as they can't fully meet the application requirements of high-altitude areas with complicated landforms in the country," Wu said.
Meanwhile, Wu said that within 10 years, the government is expected to lift controls over low-altitude flying, and the easing of controls would be a sign of mature industrial development in the country.
"The domestic helicopter industry is set to expand rapidly, which will serve as a prerequisite and provide the pressure and driving force for further growth of the sector in China."
The government has already introduced relevant policies to encourage low-altitude flying, and China has launched pilot projects in two areas in the country, where helicopters can fly at between a few hundred meters to three kilometers off the ground, Wu said.
He said the performance, lifespan and reliability of domestically constructed helicopter engines are pre-eminent, but there is still a gap between domestic and foreign-made levels.
Foreign helicopter manufacturers, including European manufacturer Airbus SE and US manufacturer Bell Helicopter Textron Inc, together take about half of the civil turbine market share in China. They are optimistic and have continued investing in China, as the demand is robust.
By 2020, China will have more than 500 airports, and more than 5,000 general aviation aircraft will be in service, according to the Civil Aviation Administration of China.